Fuse Layout Chevrolet Cavalier 1995-2005
---
Cigar lighter / power outlet fuses in the Chevrolet Cavalier are located in the Instrument panel fuse box (see fuses "CIG" (Cigarette Lighter) and "APO" (Accessory Power Outlet, if equipped)).
---
Instrument Panel
The fuse box is located on the driver's side of the instrument panel, behind the cover.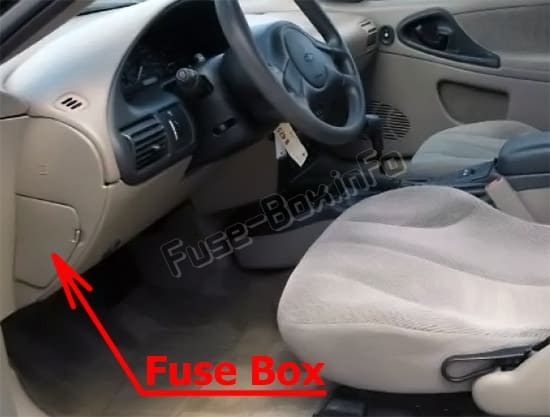 Engine Compartment
It is located in the engine compartment (left-side).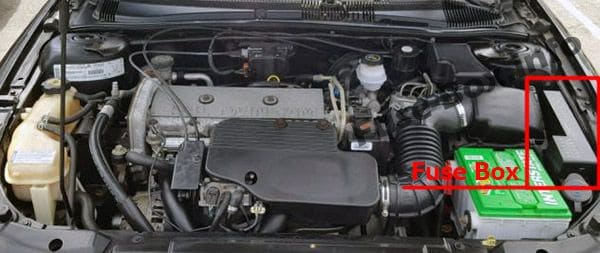 1995
Instrument Panel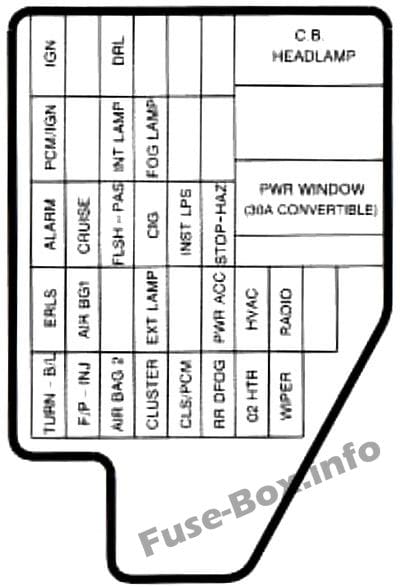 Assignment of the fuses and relay in the Instrument Panel Fuse Box (1995)
| Fuse | Circuitry |
| --- | --- |
| AIR BG 1 | Air Bag-DERM (Diagnostic Energy Reserve Module) Power |
| AIR BG 2 | Air Bag-DERM Crank Signal |
| ALARM | Alarm Module: Illuminated Entry, Warning Chimes |
| CIG | Cigar Lighter, Horn, Diagnostic Connector |
| CLS/PCM | Instrument Cluster, Powertrain Control Module |
| CLUSTER | Instrument Cluster, Anti-Lock Brake System |
| CRUISE | Cruise Control |
| DRL | Daytime Running Lamps |
| ERLS | Automatic Transaxle, Brake-Transaxle Shift Interlock, A/C Compressor, Cruise Control, Exhaust Gas Recirculation (2.2L Engine), Cannister Purge Valve, A/C High Pressure Switch (2.3L Engine) |
| EXT LAMP | Park Lamps, Side Marker Lamps, Instrument Panel Lamp |
| F/P-INJ | Fuel Pump, Fuel Injectors |
| FLSH-PAS | Flash To Pass Lamps |
| HEADLAMP | Headlamps |
| HVAC | Heater/A/C Control, Rear Window Defogger, Anti-lock Brake System, Engine Cooling Fan (2.2L Engine), Engine Vent Heater (2.3L Engine) |
| IGN | Engine Ignition |
| INST LPS | Instrument Panel Lamps |
| INT LAMP | Alarm Module:  illuminated Entry, Warning Chimes, Overhead Lamps, Map/Reading Lamps, Glove Box Lamp, Trunk Lamp, Radio, Power Mirrors |
| O2 HTR | Rear O2 HTR Sensor Heater (2.3L Engine, Cal. Auto) |
| PCM/IGN | Powertrain Control Module |
| PWR ACC | Power Door Lock |
| PWR WINDOW | Power Windows, Power Sunroof |
| RADIO | Radio |
| RR DFOG | Rear Window Defogger |
| STOP-HAZ | Stop Lamps, Hazard Lamps |
| TURN-B/U | Turn Signal Lamps, Backup Lamps |
| WIPER | Windshield Wipers, Windshield Washers |
Engine Compartment

Assignment of the fuses and relay in the Engine Compartment Fuse Box (1995)
| Fuse | Circuitry |
| --- | --- |
| A/C | A/C Compressor (2.3L Engine) |
| ABS | Anti-Lock Brake System |
| ABS | Electronic Variable Orifice Steering, Anti-Lock Brake System |
| BATT 1 | Power ACC/Stop Lamp Circuits |
| BATT 2 | Lighting Circuits |
| BLO | Heater/ A/C Blower |
| COOLING FAN | Engine Cooling Fan |
| GEN | Generator-Voltage Sense |
| IGN | Ignition Switch Circuits |
| PCM | Powertrain Control Module |
1996, 1997
Instrument Panel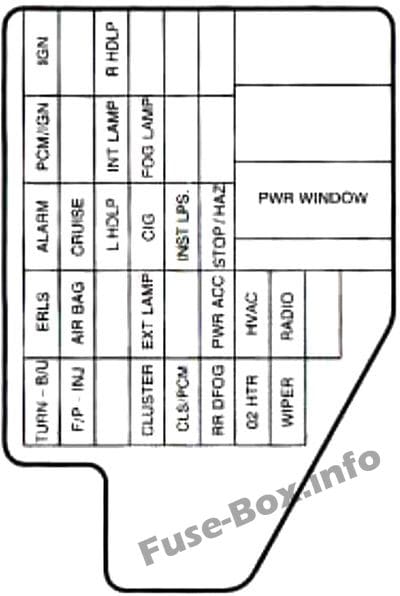 Assignment of the fuses and relay in the Instrument Panel Fuse Box (1996, 1997)
| Fuse | Circuitry |
| --- | --- |
| TURN-B/U | Exterior Lamps, Back-up Lamps |
| F/P-INJ | Fuel Pump, Fuel Injectors |
| CLUSTER | Instrument Cluster, Anti-Lock Brake System |
| CLS/PCM | Instrument Cluster, Powertrain Control Module, Daytime Running Lamps |
| RR DFOG | Rear Window Defogger |
| O2 HTR | Multiport Fuel Injection |
| WIPER | Windshield Wipers, Windshield Washers |
| ERLS | Automatic Transaxle, Brake-Transaxle Shift Interlock, A/C Compressor, Cruise Control, Multiport Fuel Injection |
| AIR BAG | Supplemental Inflatable Restraint System |
| EXT LAMP | Exterior Lamps, Instrument Panel Lights |
| PWR ACC | Power Door Locks, Convertible Top (Convertible Model) |
| HVAC | Heater and A/C Control, Anti-Lock Brake System, Engine Cooling Fan (2.2L Engine), Engine Vent Heater (2.4L Engine) |
| RADIO | Radio, Remote Keyless Entry |
| ALARM | Alarm Module – Interior Lamps, Warning Chime |
| CRUISE | Cruise Control |
| L HDLP | Left Headlamp |
| CIG | Cigarette Lighter, Horn, Interior Lamps, Diagnostic Connector |
| INST LPS | Instrument Panel Lights, Warning Chimes |
| STOP/HAZ | Exterior Lamps, Anti-Lock Brake System, Cruise Contro |
| PWR WINDOW | Power Windows, Power Sunroof, Convertible Top Controls (Convertible Model) (Circuit Breaker) |
| PCM/IGN | Powertrain Control Module |
| INT LAMP | Alarm Module: Illuminated Entry, Warning Chimes, Overhead Lamps, Mapmeading Lamps, Glove Box Lamp, Trunk Lamp, Radio, Power Mirrors, Remote Keyless Entry |
| FOG LAMP | Fog Lamps (2-24 Only) |
| IGN | Engine Ignition |
| R HDLP | Right Headlamp |
Engine Compartment

Assignment of the fuses and relay in the Engine Compartment Fuse Box (1996, 1997)
| Fuse | Circuitry |
| --- | --- |
| IGN | Ignition Switch Circuits |
| BATT 1 | Power ACC/Stoplamp Circuits |
| BATT 2 | Lighting Circuits |
| ABS | Electronic Variable Orifice Steering, Anti-Lock Brake System |
| COOLING FAN | Engine Cooling Fan |
| BLO | Heater and A/C Blower |
| PCM | Powertrain Control Module |
| A/C | A/C Compressor |
| ABS/EVO | Anti-Lock Brake System |
| GEN | Gen Voltage Sensor (2.2L Engine) |
1998
Instrument Panel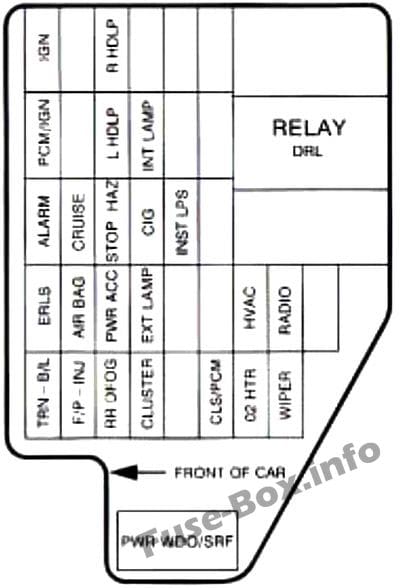 Assignment of the fuses and relay in the Instrument Panel Fuse Box (1998)
| Fuse | Circuitry |
| --- | --- |
| TRN-BL | Exterior Lamps, Back-up Lamps |
| F/P-INJ | Fuel Pump, Fuel Injectors |
| RR DFOG | Rear Window Defogger |
| CLUSTER | Instrument Cluster, Anti-Lock Brake System |
| CLS/PCM | Instrument Cluster, Powertrain Control Module, Daytime Running Lamps |
| O2 HTR | Multiport Fuel Injection |
| WIPER | Windshield Wipers, Windshield Washers |
| ERLS | Automatic Transaxle, Brake-Transaxle Shift Interlock, A/C Compressor, Cruise Control, Multiport Fuel Injection |
| AIR BAG | Supplemental Inflatable Restraint System |
| PWR ACC | Power Door Locks, Convertible Top (Convertible Model Only) |
| EXT LAMP | Exterior Lamps, Instrument Panel Lights |
| HVAC | Heater and A/C Control, Anti-lock Brake System, Engine Cooling Fan |
| RADIO | Radio, Remote Keyless Entry |
| ALARM | Alarm Module – Interior Lamps, Warning Chime |
| CRUISE | Cruise Control |
| STOP/HAZ | Exterior Lamps, Anti-Lock Brake System, Cruise Control, Turn Signals |
| CIG | Cigarette Lighter, Horn, Interior Lamps, Diagnostic Connector |
| INST LPS | Instrument Panel Lights, Warning Chimes |
| PCM/IGN | Powertrain Control Module |
| L HDLP | Left Headlamp, Fog Lamp (2-24) |
| INT LAMP | Alarm Module: Illuminated Entry, Warning Chimes, Overhead Lamps, MapReading Lamps, Glove Box Lamp, Trunk Lamp, Radio, Power Mirrors, Remote Keyless Entry |
| IGN | Engine Ignition |
| R HDLP | Right Headlamp, Fog Lamp (2-24) |
| PWR WDO/SRF | Power Windows, Power Sunroof, Convertible Top Controls (Convertible Models) (Circuit Breaker) |
| DRL | Daylight Running Lamps (Relay) |
Engine Compartment

Assignment of the fuses and relay in the Engine Compartment Fuse Box (1998)
| Fuse | Circuitry |
| --- | --- |
| IGN | Ignition Switch Circuits |
| BATT 1 | Power ACC/Stoplamp Circuits |
| BATT 2 | Lighting Circuits |
| ABS | Anti-Lock Brake System |
| COOLING FAN | Engine Cooling Fan |
| TACH | Tachometer |
| BLO | Heater and A/C Blower |
| PCM | Powertrain Control Module |
| A/C | A/C Compressor |
| ABS/EVO | Anti-Lock Brake System |
| GEN | Gen Voltage Sensor (2.2L Engine) |
1999
Instrument Panel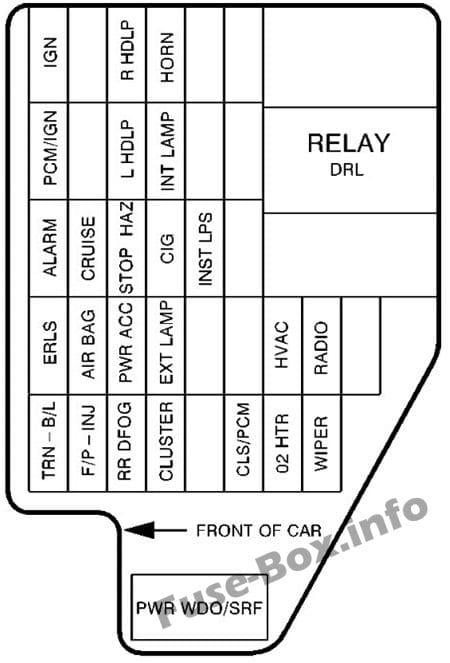 Assignment of the fuses and relay in the Instrument Panel Fuse Box (1999)
| Fuse | Circuitry |
| --- | --- |
| TRN-BL | Exterior Lamps, Back-up Lamps |
| F/P-INJ | Fuel Pump, Fuel Injectors |
| RR DFOG | Rear Window Defogger |
| CLUSTER | Instrument Cluster, Anti-Lock Brake System |
| CLS/PCM | Instrument Cluster, Powertrain Control Module, Daytime Running Lamps |
| O2 HTR | Rear O2 Sensor Heater |
| WIPER | Windshield Wipers, Windshield Washers |
| ERLS | Automatic Transaxle, Brake Transaxle Shift Interlock (BTSI), A/C Compressor, Cruise Control, Multiport Fuel Injection |
| AIR BAG | Supplemental Inflatable Restraint (SIR) System |
| PWR ACC | Power Door Locks, Convertible Top (Convertible Model Only) |
| EXT LAMP | Exterior Lamps, Instrument Panel Lights |
| HVAC | Heater and A/C Control, Anti-lock Brake System, Engine Cooling Fan |
| RADIO | Radio, Remote Keyless Entry |
| ALARM | Alarm Module – Interior Lamps, Warning Chime |
| CRUISE | Cruise Control |
| STOP/HAZ | Exterior Lamps, Anti-Lock Brake System, Cruise Control, Turn Signals |
| CIG | Cigarette Lighter |
| INST LPS | Instrument Panel Lights, Warning Chimes |
| PCM/IGN | Powertrain Control Module |
| L HDLP | Left Headlamp, Fog Lamp (Z-24 Model Only) |
| INT LAMP | Alarm Module: Illuminated Entry, Warning Chimes, Overhead Lamps, Map/Reading Lamps, Glove Box Lamp, Trunk Lamp, Radio, Power Mirrors, Remote Keyless Entry |
| IGN | Engine Ignition |
| R HDLP | Right Headlamp, Fog Lamp (Z-24 Model Only) |
| HORN | Horn, Diagnostic Connector |
| PWR WDO/SRF | Power Windows, Power Sunroof, Convertible Top Controls (Convertible Model Only) (Circuit Breaker) |
| DRL | Daylight Running Lamps (Relay) |
Engine Compartment
Assignment of the fuses and relay in the Engine Compartment Fuse Box (1999)
| Fuse | Circuitry |
| --- | --- |
| IGN | Ignition Switch Circuits |
| BATT 1 | Power ACC/Stoplamp Circuits |
| BATT 2 | Lighting Circuits |
| ABS | Anti-Lock Brake System |
| COOLING FAN | Engine Cooling Fan |
| BLO | Heater and A/C Blower |
| PCM | Powertrain Control Module |
| A/C | A/C Compressor |
| ABS/EVO | Anti-Lock Brake System |
2000, 2001
Instrument Panel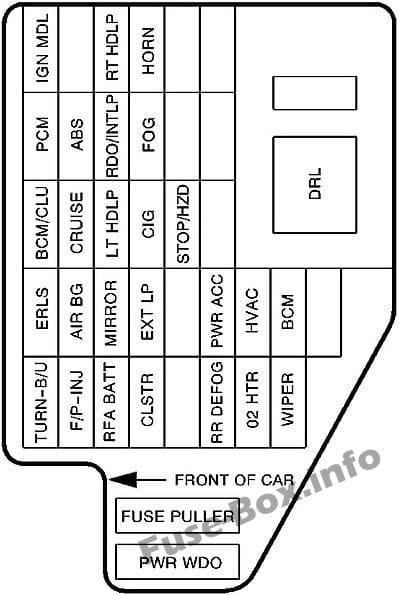 Assignment of the fuses and relay in the Instrument Panel Fuse Box (2000, 2001)
| Fuse | Circuitry |
| --- | --- |
| TURN-B/U | Turn Signals, Back-Up Lamps |
| ERLS | Engine Relays |
| BCM/CLU | Body Control Module, Instrument Panel Cluster |
| PCM | Powertrain Control Module |
| IGN MDL | Ignition Module |
| F/P-INJ | Fuel Pump, Fuel Injectors |
| AIR BG | Air Bag |
| CRUISE | Cruise Control Switch |
| ABS | Anti-Lock Brake (Ignition) |
| Blank | Not Used |
| RFA BATT | Remote Keyless Entry System |
| MIRROR | Power Mirror |
| LT HDLP | Left Headlamp |
| RDO/INTLP | Radio, Interior Lamps |
| RT HDLP | Right Headlamp |
| CLSTR | Instrument Panel Cluster |
| EXT LP | Exterior Lamps |
| CIG | Cigarette Lighter, Diagnostic Link Connector |
| FOG | Fog Lamps |
| HORN | Horn |
| Blank | Not Used |
| Blank | Not Used |
| STOP/HZD | Stop Lamps, Hazard Lamps |
| Blank | Not Used |
| Blank | Not Used |
| RR DEFOG | Rear Window Defogger |
| PWR ACC | Power Door Locks, Convertible Top Switch |
| Blank | Not Used |
| Blank | Not Used |
| Blank | Not Used |
| O2 HTR | Oxygen Sensor Heater |
| HVAC | Climate Control System |
| WIPER | Windshield Wiper |
| BCM | Body Control Module |
| Blank | Not Used |
| PWR WDO | Power Windows, Sunroof, Convertible Top (Circuit Breaker) |
| DRL | Daytime Running Lamps (Relay) |
Engine Compartment

Assignment of the fuses and relay in the Engine Compartment Fuse Box (2000, 2001)
| Fuse | Circuitry |
| --- | --- |
| IGN | Ignition Switch Circuits |
| BATT 1 | Power ACC/Stoplamp Circuits |
| BATT 2 | Lighting Circuits |
| ABS | Anti-Lock Brake System |
| COOLING FAN | Engine Cooling Fan |
| PCM/HVAC | Powertrain Control Module, Heater and A/C Blower |
| BLO | Heater and A/C Blower |
| PCM | Powertrain Control Module |
| A/C | A/C Compressor |
| FUEL PUMP | Fuel Pump |
| HEATER BLOWER | Heater and A/C Blower |
2002, 2003, 2004, 2005
Instrument Panel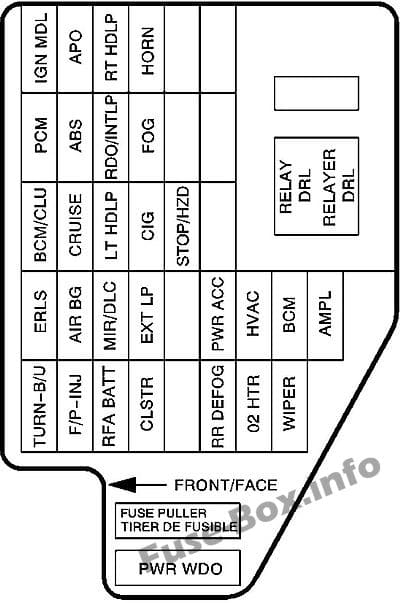 Assignment of the fuses and relay in the Instrument Panel Fuse Box (2002-2005)
| Fuse | Circuitry |
| --- | --- |
| TURN-B/U | Turn Signals, Back-Up Lamps |
| ERLS | Engine Relays |
| BCM/CLU | Body Control Module, Instrument Panel Cluster |
| PCM | Powertrain Control Module |
| IGN MDL | Ignition Module |
| F/P-INJ | Fuel Pump, Fuel Injectors |
| AIR BG | Air Bag |
| CRUISE | Cruise Control Module/Switch |
| ABS | Anti-Lock Brake (Ignition) |
| APO | Accessory Power Outlet |
| RFA BATT | Remote Keyless Entry System |
| MIR/DLC | Power Mirror/Diagnostic Link Connector |
| LT HDLP | Left Headlamp |
| RDO/INTLP | Radio, Interior Lamps |
| RT HDLP | Right Headlamp |
| CLSTR | Instrument Panel Cluster |
| EXT LP | Exterior Lamps |
| CIG | Cigarette Lighter |
| FOG | Fog Lamps |
| HORN | Horn |
| Blank | Not Used |
| Blank | Not Used |
| STOP/HZD | Stop Lamps, Hazard Lamps |
| Blank | Not Used |
| Blank | Not Used |
| RR DEFOG | Rear Window Defogger |
| PWR ACC | Power Door Locks |
| Blank | Not Used |
| Blank | Not Used |
| Blank | Not Used |
| O2 HTR | Oxygen Sensor Heater |
| HVAC | Climate Control System |
| WIPER | Windshield Wiper |
| BCM | Body Control Module |
| AMPL | Audio Amplifier |
| PWR WDO | Power Windows, Sunroof |
| RELAY DRL | Daytime Running Lamps (Relay) |
| Blank | Not Used |
Engine Compartment

Assignment of the fuses and relay in the Engine Compartment Fuse Box (2002-2005)
| Fuse | Circuitry |
| --- | --- |
| IGN | Ignition Switch Circuits |
| BATT 1 | Exterior Lamps, Power Outlet, Horn, Audio Amplifier |
| BATT 2 | Rear Defogger, Starter, Power Locks, Stoplamps |
| ABS | Anti-Lock Brake System |
| COOLING FAN | Engine Cooling Fan |
| PCM/HVAC | Powertrain Control Module, Heater and A/C Blower |
| CRNK | Starter |
| BLO | Heater and A/C Blower |
| PCM | Powertrain Control Module |
| A/C | A/C Compressor |
| A/C | A/C Compressor |
| FUEL PUMP | Fuel Pump |
| CRNK | Starter |
| COOLING FAN | Engine Cooling Fan |
| HEATER BLOWER | Heater and A/C Blower |