Fuse Layout Fiat Doblo 2005-2009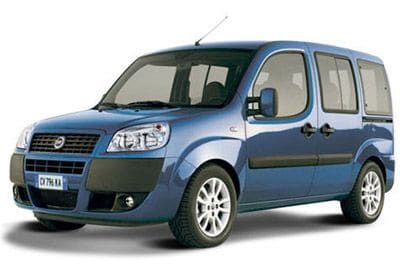 ---
Cigar lighter (power outlet) fuse in the Fiat Doblo is the fuse F44 in the Instrument panel fuse box.
---
Engine compartment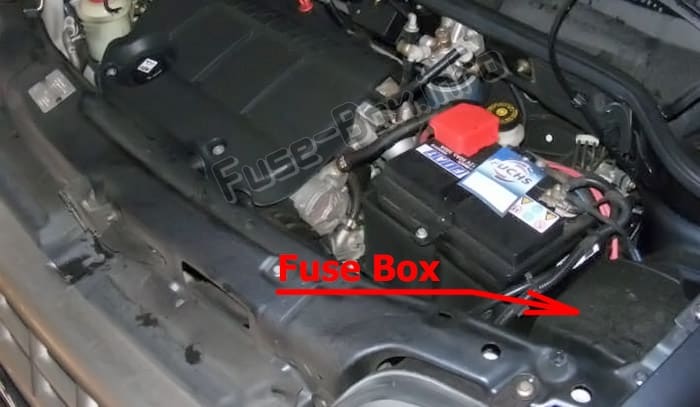 To reach the fuses in the engine compartment fusebox, release the tabs A and remove the cover B.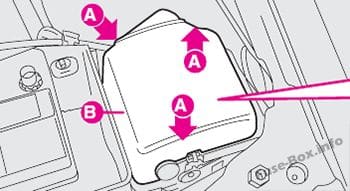 Passenger compartment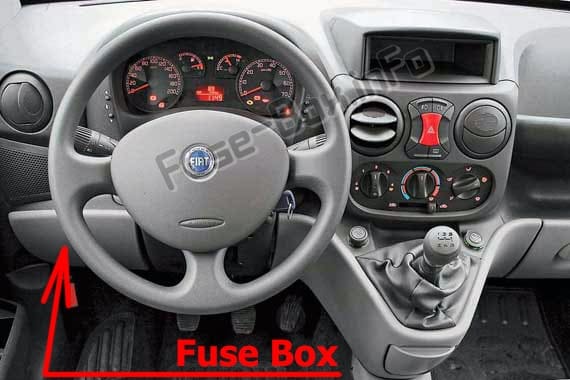 Press in the points to remove the cover and reach the fuses.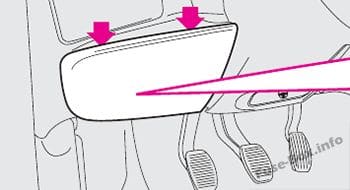 Engine compartment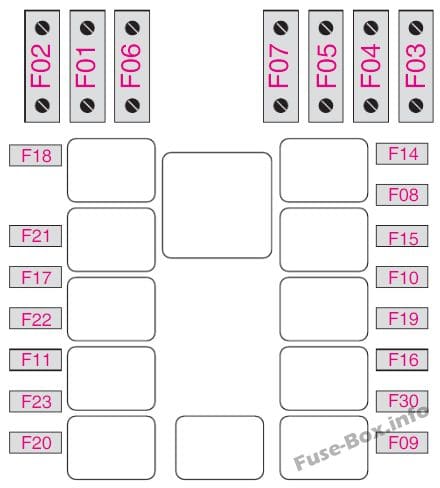 Assignment of the fuses in the Engine compartment
| № | Ampere rating [A] | Device protected |
| --- | --- | --- |
| F01 - MAXI | 70 | Dashboard control unit power standard functions |
| F02 - MAXI | 40 | Dashboard control unit power optional functions |
| F03 - MAXI | 20 | Ignition switch |
| F04 - MAXI | 40 | ABS power (pump) |
| F05 - MAXI | 30 | ABS power (valve) |
| F06 - MAXI | 30 | One-speed radiator fan |
| F06 - MAXI | 30 | Radiator fan first speed (versions with manual climate control system) |
| F06 - MAXI | 40 | Radiator fan first speed (1.3 -1.9 Multijet versions) |
| F07 - MAXI | 60 | Radiator fan second speed (1.4 - 1.6 versions with manual climate control system) |
| F07 - MAXI | 40 | Radiator fan second speed (1.3 -1.9 Multijet versions) |
| F08 | 30 | Passenger compartment fan |
| F09 | — | Spare |
| F10 | 15 | Horn |
| F11 | 15 | Engine control system secondary loads |
| F11 | 15 | Glow plug control unit |
| F11 | 15 | Petrol fume recirculation solenoid valve |
| F11 | 15 | Tachometer generator |
| F11 | 15 | Lambda sensors (oxygen sensors) |
| F14 | 10 | Right-hand main beam |
| F15 | 10 | Left-hand main beam |
| F16 | 7,5 | Engine control unit (ignition switch powered) |
| F16 | 7,5 | Engine cooling system relay |
| F17 | 10 | Engine control unit (power) |
| F18 | 7,5 | Engine control unit (+battery) |
| F18 | 7,5 | Engine cooling system relay |
| F19 | 7,5 | Manual climate control compressor |
| F21 | 15 | Fuel pump |
| F22 | 20 | Ignition coils |
| F22 | 20 | Injectors |
| F22 | 20 | Fuel pump |
| F23 | — | Spare |
| F30 | 15 | Front fog lights |
Passenger compartment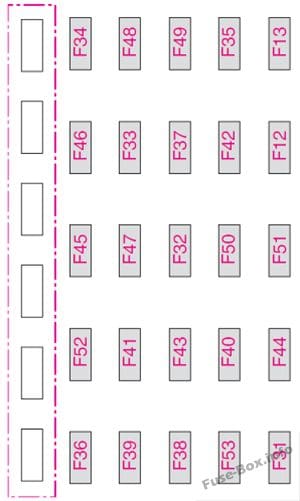 Assignment of the fuses in the Dashboard Fuse box
| № | Ampere rating [A] | Device protected |
| --- | --- | --- |
| F12 | 10 | Right-hand dipped beam |
| F13 | 10 | Left-hand dipped beam |
| F13 | 10 | Headlight beam adjuster |
| F30 | 15 | Front fog lights |
| F31 | 7,5 | Reversing light |
| F31 | 7,5 | Manual climate control enable control |
| F31 | 7,5 | Pump system relay |
| F31 | 7,5 | Fan system relay passenger compartment heater |
| F32 | 15 | Light system |
| F33 | — | Spare |
| F34 | — | Spare |
| F35 | — | Spare |
| F37 | 10 | Instrument panel and warning lights (ignition switch powered) |
| F37 | 10 | Brake lights |
| F37 | 10 | Additional brake light (third stop light) |
| F38 | 20 | Door locking system |
| F39 | 10 | + 30 services (sound system, cellular telephone, diagnostic socket) |
| F39 | 15 | Subwoofer system |
| F40 | 30 | Heated rear window |
| F41 | 7,5 | Heated rearview mirrors |
| F42 | 10 | Boot |
| F42 | 10 | Ceiling light |
| F42 | 7,5 | ABS control unit (ignition switch powered) |
| F43 | 30 | Windscreen-rear window washer pump |
| F43 | 30 | Windscreen wiper |
| F44 | 20 | Cigar lighter |
| F44 | 20 | Supplementary power socket |
| F45 | 15 | Heated seats |
| F46 | — | Spare |
| F47 | 20 | Left front power window |
| F48 | 20 | Right front power window |
| F49 | 7,5 | +15 services (sound system, cellular telephone, dashboard control lighting, electrical mirrors, trailer, heated seat control lighting) |
| F49 | 7,5 | Safet belt buzzer muting relay |
| F50 | 7,5 | Air bag |
| F51 | 7,5 | Dashboard instrument lights |
| F51 | 7,5 | Number plate light |
| F52 | 15 | Rear window wiper |
| F53 | 10 | Hazard lights |
| F53 | 10 | Instrument panel and warning lights (battery powered) |