Fuse Layout Fiat Talento 2016-2019..
---
Cigar lighter (power outlet) fuses in the Fiat Talento are the fuses №31 (Cigar lighter, accessory socket) and №40 (Auxiliary rear power socket) in the Instrument panel fuse box.
---
The fuse box is located on the left of the steering wheel in the storage compartment.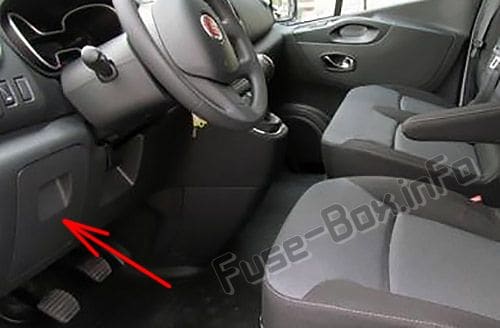 Unclip the storage A.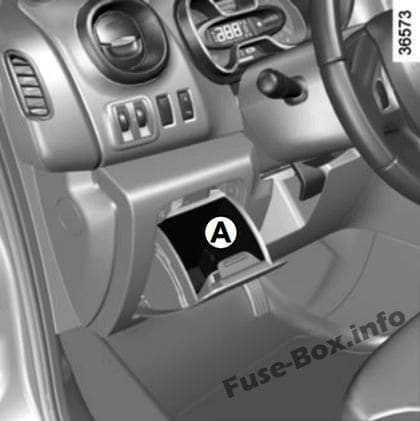 Fuse box diagram 2016, 2017, 2018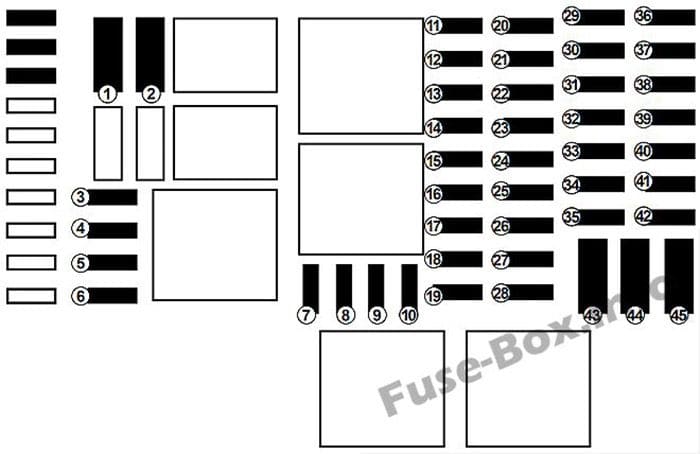 Assignment of the fuses (2016, 2017, 2018)
| № | Protected component |
| --- | --- |
| 1 | APC charger for vehicles with electronic key |
| 2 | — |
| 3 | — |
| 4 | + battery for vehicles with electronic key |
| 5 | Additional air conditioning |
| 6 | Additional cabin heating |
| 7 | Electric rearview mirrors, complementary central adaptation unit |
| 8 | Rear view mirror defroster |
| 9 | Radio, multimedia system, rear view mirror, diagnostic socket. |
| 10 | Predisposition for towing system |
| 11 | Timer battery, central passenger compartment unit |
| 12 | Right daytime running lights, front parking lights, right high beam, left low beam |
| 13 | Danger warning lights, direction indicators |
| 14 | Locking the opening parts |
| 15 | Left daytime running lights, rear parking lights, left high beam, right low beam |
| 16 | Licence plate light front and rear fog lights |
| 17 | Alarms, acoustic warnings, light and windscreen wiper levers |
| 18 | Instrument panel |
| 19 | Heater |
| 20 | Rearscreen wipers, window washer pump, horn |
| 21 | General APC charger |
| 22 | Reversing lights |
| 23 | Stop switch |
| 24 | Injection, ignition |
| 25 | Air bag, steering wheel lock |
| 26 | Passenger's electric window |
| 27 | Power steering |
| 28 | Brake lights |
| 29 | APC charger for vehicles with electronic key |
| 30 | General auxiliary |
| 31 | Cigar lighter, accessory socket |
| 32 | Heater |
| 33 | Stop lights, ABS, transponder |
| 34 | Interior lighting, air conditioning |
| 35 | Starter for vehicles with electronic key |
| 36 | Rear wiper |
| 37 | Electromagnetic warning |
| 38 | Additional socket in load compartment |
| 39 | Driver's electric window motor |
| 40 | Auxiliary rear power socket |
| 41 | BCM starter |
| 42 | Heated seats |
| 43 | Tachograph |
| 44 | Front windscreen wiper |
| 45 | Heating and climate control |