Fuse Layout Hyundai Matrix 2002-2008
---
Cigar lighter (power outlet) fuses are located in the Instrument panel fuse box (see fuses "C/LIGHT" (Cigarette lighter) and "P/OUTLET" (Front/Rear power outlet)).
---
Instrument panel
The fuse box is located on the driver's side of the instrument panel behind the cover.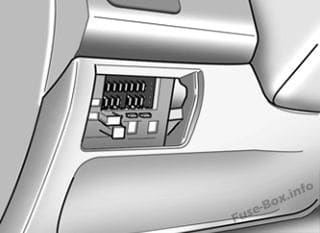 Engine compartment
The fuse box is located in the engine compartment (left-side).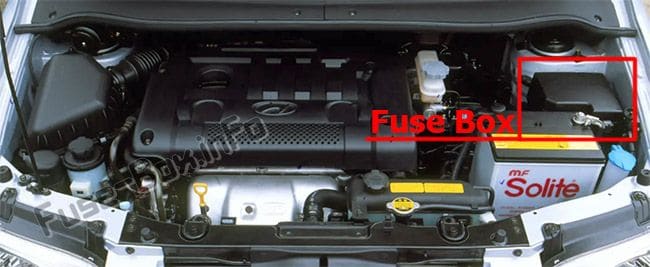 2003, 2004
Instrument panel
Version 1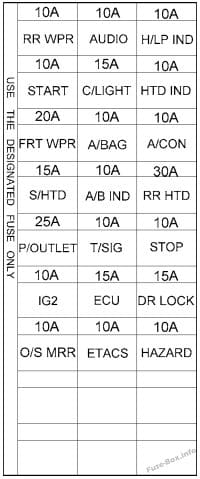 Version 2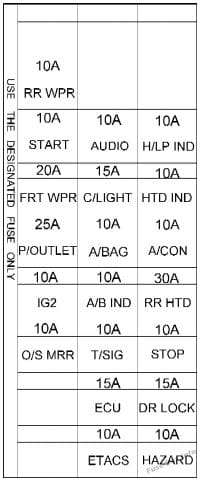 Assignment of the fuses in the instrument panel
| DESCRIPTION | AMP RATING | PROTECTED COMPONENTS |
| --- | --- | --- |
| H/LP IND | 10A | Head lamp indicator |
| HTD IND | 10A | Defogger relay, Left(Right) outside mirror motor, Rear window motor |
| A/CON | 10A | A/C Switch |
| RR HTD | 30A | Defogger relay |
| STOP | 10A | Stop lamp switch, Power window relay |
| D/LOCK | 15A | Door lock(unlock) relay, ETACM, Sunroof relay |
| HAZARD | 10A | Burglar alarm relay, Hazard relay |
| AUDIO | 10A | Audio |
| C/LIGHT | 15A | Cigarette lighter |
| A/B | 10A | SRS control module |
| A/B IND | 10A | SRS IND. |
| T/SIG | 10A | Hazard switch, Seat belt timer, Instrument cluster, ABS control module, Pre-excitation resistor, Washer motor |
| ECU | 15A | ECM, Vehicle speed sensor, TCM, Ignition coil |
| ETACS | 10A | ETACM, A/T Shift lever |
| RR WPR | 10A | Rear wiper motor, Rear wiper relay |
| START | 10A | Start relay |
| FRT WPR | 20A | Wiper relay, Washer motor, Wiper & Defogger timer |
| S/HTD | 15A | Left (Right) front seat warmer switch |
| P/OUTLET | 25A | Front (Rear) power outlet |
| IG2 | 10A | ETACM, Power window relay, Defogger relay, Sunroof relay Head lamp relay, Blower relay |
| O/S MRR | 10A | Outside mirror switch, Rear fog lamp relay |
Engine compartment (GASOLINE)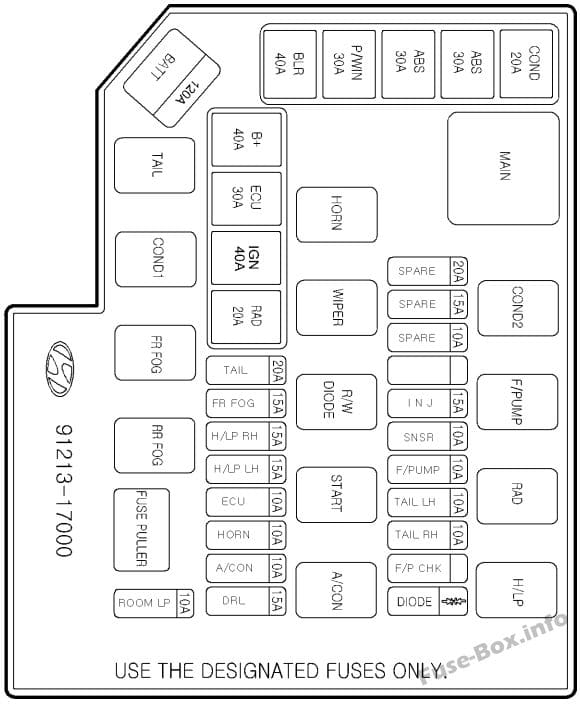 Assignment of the fuses in the Engine compartment (GASOLINE) (2003, 2004)
| DESCRIPTION | AMP RATING | PROTECTED COMPONENTS |
| --- | --- | --- |
| ALT | 120A | Generator |
| B+ | 40A | (A/CON, RR HTD, STOP, D/LOCK, HAZARD) Fuse |
| ECU | 30A | Generator, Engine control relay, ECM |
| RAD | 20A | Radiator fan relay |
| IGN | 40A | Start relay, Ignition switch |
| BLR | 40A | Blower relay |
| P/WIN | 30A | Power window relay |
| COND | 20A | Condenser fan relay #1 |
| ABS | 30A | ABS control module, ABS bleeding connector |
| ABS | 30A | ABS control module, ABS bleeding connector |
| F/PUMP | 10A | Fuel pump relay |
| INJ | 15A | Injector, Ignition coil |
| SNSR | 10A | MAP sensor, Oxygen sensor, CP sensor, Knock sensor, Throttle position sensor |
| ROOM LP | 10A | Audio, Room lamp, Overhead console lamp, Instrument cluster |
| DRL | 15A | DRL control module |
| HORN | 10A | Horn relay |
| A/CON | 10A | A/C relay |
| FR FOG | 15A | Front fog lamp relay |
| ECU | 10A | ECM, TCM |
| LP | 20A | Tail lamp relay |
| TAIL LH | 10A | Left rear combi lamp, Left position lamp, Left License lamp |
| TAIL RH | 10A | Right rear combi lamp, Right position lamp, Right License lamp |
| H/LP LH | 15A | Left head lamp |
| H/LP RH | 15A | Right head lamp, (H/LP IND) Fuse |
Engine compartment (DIESEL)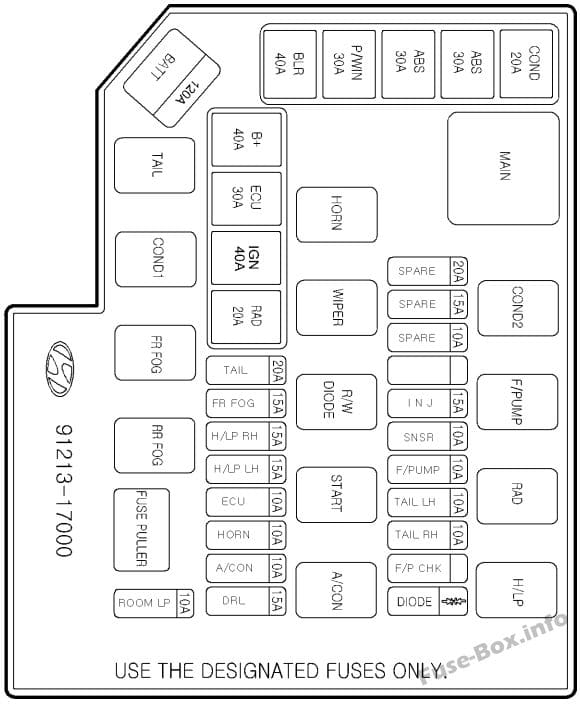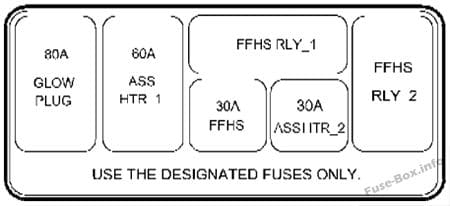 Assignment of the fuses in the Engine compartment (DIESEL) (2003, 2004)
| DESCRIPTION | AMP RATING | PROTECTED COMPONENTS |
| --- | --- | --- |
| ALT | 100A | Generator |
| B+ | 40A | (A/CON, RR HTD, STOP, D/LOCK, HAZARD) Fuse |
| ECU | 30A | Generator, Engine control relay, ECM |
| RAD | 20A | Radiator fan relay |
| IGN | 40A | Start relay, Ignition switch |
| BLR | 40A | Blower relay |
| P/WIN | 30A | Power window relay |
| COND | 20A | Condenser fan relay #1 |
| ABS | 30A | ABS control module, ABS bleeding connector |
| ABS | 30A | ABS control module, ABS bleeding connector |
| F/PUMP | 10A | Fuel pump relay |
| ECU | 20A | ECM No.5 (Batt+) |
| ECU | 10A | ECM No.4 (Batt+) |
| SNSR | 10A | Glow plug relay, Assistor heater relay 1/2, Stop lamp switch, TDC sensor, EGR act, Throttle plate act |
| ROOM LP | 10A | Audio, Room lamp, Overhead console lamp, Instrument cluster, ETACM, Luggage lamp |
| DRL | 15A | DRL control module |
| HORN | 10A | Horn relay |
| A/CON | 10A | A/C relay |
| FR FOG | 15A | Front fog lamp relay |
| ECU | 10A | ECM, TCM |
| LP | 20A | Tail lamp relay |
| TAIL LH | 10A | Left rear combi lamp, Left position lamp, Left License lamp |
| TAIL RH | 10A | Right rear combi lamp, Right position lamp, Right License lamp |
| H/LP LH | 15A | Left head lamp |
| H/LP RH | 15A | Right head lamp, (H/LP IND) Fuse |
2005
Instrument panel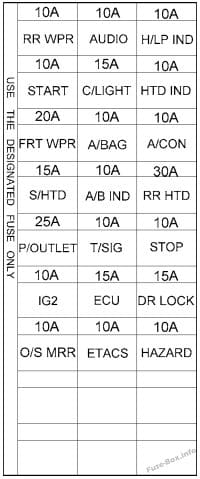 Assignment of the fuses in the instrument panel
| DESCRIPTION | AMP RATING | PROTECTED COMPONENTS |
| --- | --- | --- |
| H/LP IND | 10A | Head lamp indicator |
| HTD IND | 10A | Defogger relay, Left(Right) outside mirror motor, Rear window motor |
| A/CON | 10A | A/C Switch |
| RR HTD | 30A | Defogger relay |
| STOP | 10A | Stop lamp switch, Power window relay |
| D/LOCK | 15A | Door lock(unlock) relay, ETACM, Sunroof relay |
| HAZARD | 10A | Burglar alarm relay, Hazard relay |
| AUDIO | 10A | Audio |
| C/LIGHT | 15A | Cigarette lighter |
| A/B | 10A | SRS control module |
| A/B IND | 10A | SRS IND. |
| T/SIG | 10A | Hazard switch, Seat belt timer, Instrument cluster, ABS control module, Pre-excitation resistor, Washer motor |
| ECU | 15A | ECM, Vehicle speed sensor, TCM, Ignition coil |
| ETACS | 10A | ETACM, A/T Shift lever |
| RR WPR | 10A | Rear wiper motor, Rear wiper relay |
| START | 10A | Start relay |
| FRT WPR | 20A | Wiper relay, Washer motor, Wiper & Defogger timer |
| S/HTD | 15A | Left (Right) front seat warmer switch |
| P/OUTLET | 25A | Front (Rear) power outlet |
| IG2 | 10A | ETACM, Power window relay, Defogger relay, Sunroof relay Head lamp relay, Blower relay |
| O/S MRR | 10A | Outside mirror switch, Rear fog lamp relay |
Engine compartment (GASOLINE)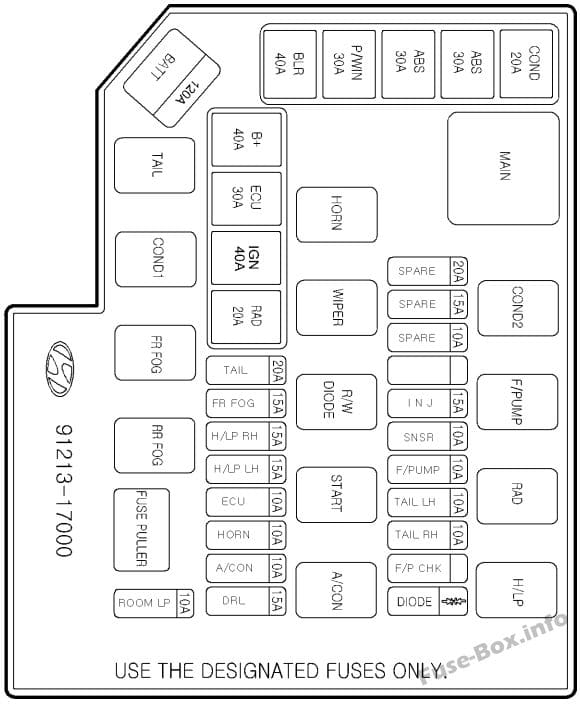 Assignment of the fuses in the Engine compartment (GASOLINE) (2005)
| DESCRIPTION | AMP RATING | PROTECTED COMPONENTS |
| --- | --- | --- |
| ALT | 120A | Generator |
| B+ | 40A | (A/CON, RR HTD, STOP, D/LOCK, HAZARD) Fuse |
| ECU | 30A | Generator, Engine control relay, ECM |
| RAD | 20A | Radiator fan relay |
| IGN | 40A | Start relay, Ignition switch |
| BLR | 40A | Blower relay |
| P/WIN | 30A | Power window relay |
| COND | 20A | Condenser fan relay #1 |
| ABS | 30A | ABS control module, ABS bleeding connector |
| ABS | 30A | ABS control module, ABS bleeding connector |
| F/PUMP | 10A | Fuel pump relay |
| INJ | 15A | Injector, Ignition coil |
| SNSR | 10A | MAP sensor, Oxygen sensor, CP sensor, Knock sensor, Throttle position sensor |
| ROOM LP | 10A | Audio, Room lamp, Overhead console lamp, Instrument cluster |
| DRL | 15A | DRL control module |
| HORN | 10A | Horn relay |
| A/CON | 10A | A/C relay |
| FR FOG | 15A | Front fog lamp relay |
| ECU | 10A | ECM, TCM |
| LP | 20A | Tail lamp relay |
| TAIL LH | 10A | Left rear combi lamp, Left position lamp, Left License lamp |
| TAIL RH | 10A | Right rear combi lamp, Right position lamp, Right License lamp |
| H/LP LH | 15A | Left head lamp |
| H/LP RH | 15A | Right head lamp, (H/LP IND) Fuse |
Engine compartment (DIESEL)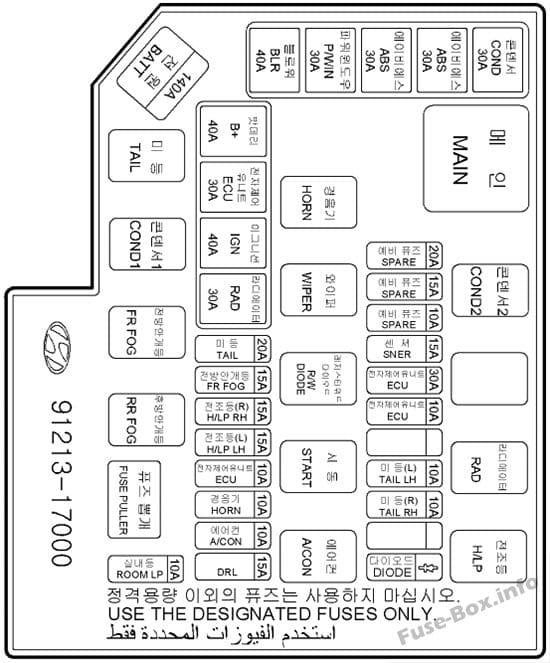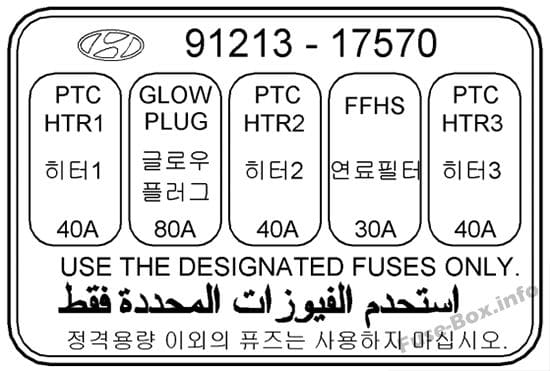 Assignment of the fuses in the Engine compartment (DIESEL) (2005)
| DESCRIPTION | AMP RATING | PROTECTED COMPONENTS |
| --- | --- | --- |
| FUSE: | | |
| ALT | 140A | Generator |
| B+ | 40A | (A/CON, RR HTD, STOP, D/LOCK, HAZARD) Fuse, Deicer |
| ECU | 30A | Generator, Enqine control relav, ECM |
| RAD | 30A | Radiator fan relav |
| IGN | 40A | Start relav, Iqnition switch |
| BLR | 40A | Blower relav |
| P/WIN | 30A | Power window relay |
| COND | 30A | Condenser fan relay #1 |
| ABS | 30A | ABS control module, ABS bleedinq connector |
| ABS | 30A | ABS control module, ABS bleedinq connector |
| F/PUMP | 10A | Fuel pump relav |
| ECU | 30A | ECM No.5 (Batt+) |
| ECU | 10A | ECM No.4 (Batt+), Stop lamp switch, PTC heater relay #1 |
| SNSR | 15A | Glow plug relay, Assistor heater relay 1/2, Stop lamp switch, TDC sensor, EGR act, Throttle plate act, VGT vacuum |
| ROOM LP | 10A | Audio, Room lamp, Overhead console lamp, Instrument cluster, ETACM, Luqqaqe lamp |
| DRL | 15A | DRL control module |
| HORN | 10A | Horn relav |
| A/CON | 10A | A/C relav |
| FR FOG | 15A | Front foq lamp relav |
| ECU | 10A | ECM, TCM |
| LP | 20A | Tail lamp relay |
| TAIL LH | 10A | Left rear combi lamp, Left position lamp. Left License lamp |
| TAIL RH | 10A | Riqht rear combi lamp, Riqht position lamp, Riqht License lamp |
| H/LP LH | 15A | Left head lamp |
| H/LP RH | 15A | Riqht head lamp, (H/LP IND) Fuse |
| FUSIBLE LINK: | | |
| PTC HTR 1 | 40A | PTC heater relav #1 |
| GLOW | 80A | GLOW relav |
| PTC HTR 2 | 40A | PTC heater relav #2 |
| FFHS | 30A | FFHS relav |
| PTC HTR 3 | 40A | PTC heater relay #3 |
2006, 2007
Instrument panel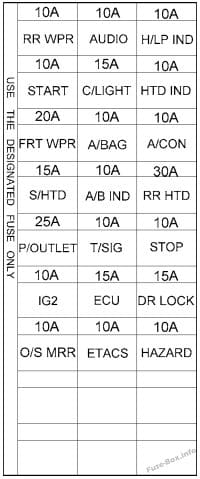 Assignment of the fuses in the instrument panel
| DESCRIPTION | AMP RATING | PROTECTED COMPONENTS |
| --- | --- | --- |
| H/LP IND | 10A | Head lamp indicator |
| HTD IND | 10A | Defogger relay, Left(Right) outside mirror motor, Rear window motor |
| A/CON | 10A | A/C Switch |
| RR HTD | 30A | Defogger relay |
| STOP | 10A | Stop lamp switch, Power window relay |
| D/LOCK | 15A | Door lock(unlock) relay, ETACM, Sunroof relay |
| HAZARD | 10A | Burglar alarm relay, Hazard relay |
| AUDIO | 10A | Audio |
| C/LIGHT | 15A | Cigarette lighter |
| A/B | 10A | SRS control module |
| A/B IND | 10A | SRS IND. |
| T/SIG | 10A | Hazard switch, Seat belt timer, Instrument cluster, ABS control module, Pre-excitation resistor, Washer motor |
| ECU | 15A | ECM, Vehicle speed sensor, TCM, Ignition coil |
| ETACS | 10A | ETACM, A/T Shift lever |
| RR WPR | 10A | Rear wiper motor, Rear wiper relay |
| START | 10A | Start relay |
| FRT WPR | 20A | Wiper relay, Washer motor, Wiper & Defogger timer |
| S/HTD | 15A | Left (Right) front seat warmer switch |
| P/OUTLET | 25A | Front (Rear) power outlet |
| IG2 | 10A | ETACM, Power window relay, Defogger relay, Sunroof relay Head lamp relay, Blower relay |
| O/S MRR | 10A | Outside mirror switch, Rear fog lamp relay |
Engine compartment (GASOLINE)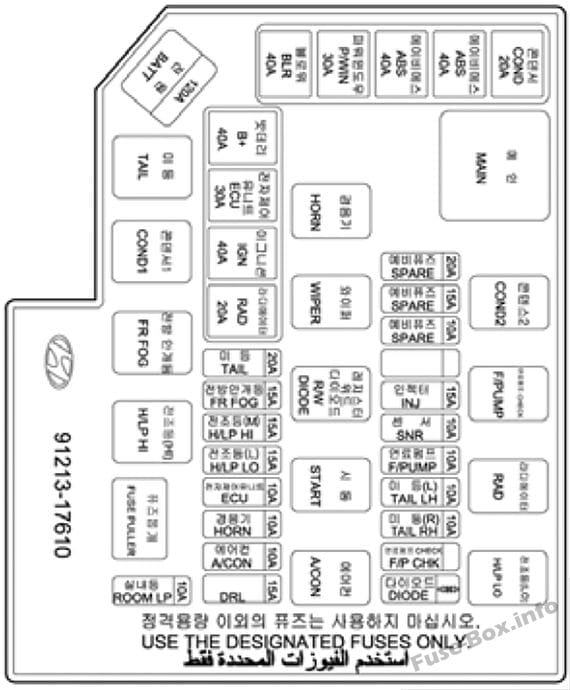 Assignment of the fuses in the Engine compartment (GASOLINE) (2006, 2007)
| DESCRIPTION | AMP RATING | PROTECTED COMPONENTS |
| --- | --- | --- |
| ALT | 120A | Generator |
| B+ | 40A | (A/CON, RR HTD, STOP, D/LOCK, HAZARD) Fuse |
| ECU | 30A | Generator, Engine control relay, ECM |
| RAD | 20A | Radiator fan relay |
| IGN | 40A | Start relay, Ignition switch |
| BLR | 40A | Blower relay |
| P/WIN | 30A | Power window relay |
| COND | 20A | Condenser fan relay #1 |
| ABS | 40A | ABS control module, ABS bleeding connector, ESP |
| ABS | 40A | ABS control module, ABS bleeding connector, ESP |
| F/PUMP | 10A | Fuel pump relay |
| INJ | 15A | Injector, Ignition coil |
| SNSR | 10A | MAP sensor, Oxygen sensor, CP sensor, Knock sensor, Throttle position sensor |
| ROOM LP | 10A | Audio, Room lamp, Overhead console lamp, Instrument cluster |
| DRL | 15A | DRL control module |
| HORN | 10A | Horn relay |
| A/CON | 10A | A/C relay |
| FR FOG | 15A | Front fog lamp relay |
| ECU | 10A | ECM, TCM |
| LP | 20A | Tail lamp relay |
| TAIL LH | 10A | Left rear combi lamp, Left position lamp, Left License lamp |
| TAIL RH | 10A | Right rear combi lamp, Right position lamp, Right License lamp |
| H/LP LH | 15A | Left head lamp |
| H/LP RH | 15A | Right head lamp, (H/LP IND) Fuse |
Engine compartment (DIESEL)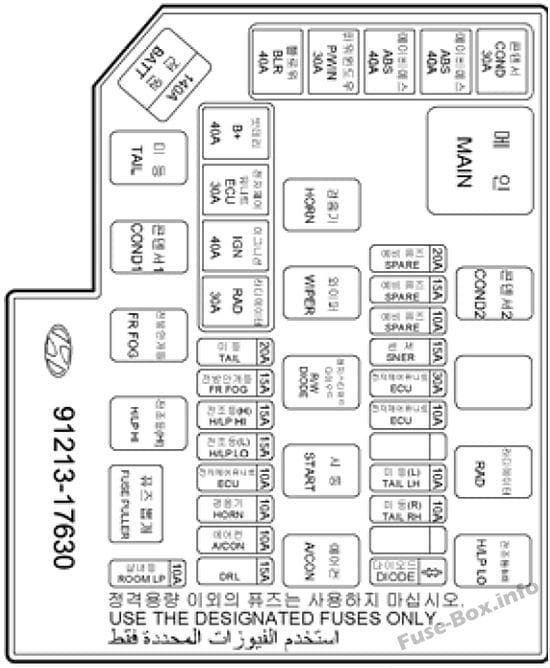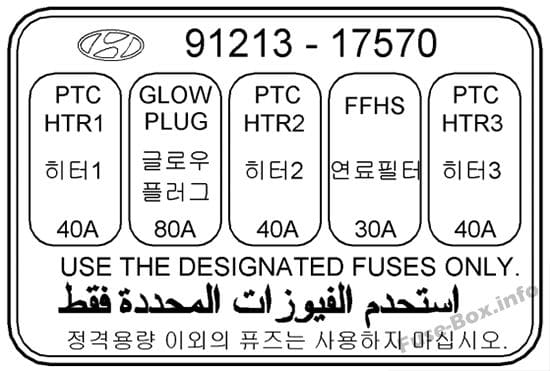 Assignment of the fuses in the Engine compartment (DIESEL) (2006, 2007)
| DESCRIPTION | AMP RATING | PROTECTED COMPONENTS |
| --- | --- | --- |
| FUSE: | | |
| ALT | 140A | Generator |
| B+ | 40A | (A/CON, RR HTD, STOP, D/LOCK, HAZARD) Fuse, Deicer |
| ECU | 30A | Generator, Engine control relay, ECM |
| RAD | 30A | Radiator fan relay |
| IGN | 40A | Start relay, Ignition switch |
| BLR | 40A | Blower relay |
| P/WIN | 30A | Power window relay |
| COND | 30A | Condenser fan relay #1 |
| ABS | 40A | ABS control module, ABS bleeding connector, ESP |
| ABS | 40A | ABS control module, ABS bleeding connector, ESP |
| F/PUMP | 10A | Fuel pump relay |
| ECU | 30A | ECM No.5 (Batt+) |
| ECU | 10A | ECM No.4 (Batt+), Stop lamp switch, PTC heater relay #1 |
| SNSR | 15A | Glow plug relay, Assistor heater relay 1/2, Stop lamp switch, TDC sensor, EGR act, Throttle plate act, VGT vacuum |
| ROOM LP | 10A | Audio, Room lamp, Overhead console lamp, Instrument cluster, ETACM, Luggage lamp |
| DRL | 15A | DRL control module |
| HORN | 10A | Horn relay |
| A/CON | 10A | A/C relay |
| FR FOG | 15A | Front fog lamp relay |
| ECU | 10A | ECM, TCM |
| LP | 20A | Tail lamp relay |
| TAIL LH | 10A | Left rear combi lamp, Left position lamp, Left License lamp |
| TAIL RH | 10A | Right rear combi lamp, Right position lamp, Right License lamp |
| H/LP LH | 15A | Left head lamp |
| H/LP RH | 15A | Right head lamp, (H/LP IND) Fuse |
| FUSIBLE LINK: | | |
| PTC HTR 1 | 40A | PTC heater relay #1 |
| GLOW | 80A | GLOW relay |
| PTC HTR 2 | 40A | PTC heater relay #2 |
| FFHS | 30A | FFHS relay |
| PTC HTR 3 | 40A | PTC heater relay #3 |