Fuse Layout Hyundai Sonata 2014-2019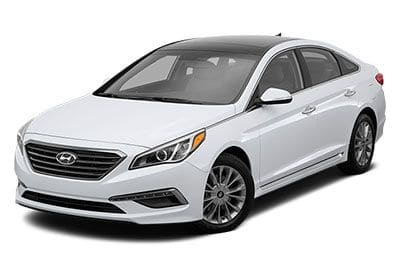 ---
Cigar lighter (power outlet) fuses in the Hyundai Sonata are located in the Instrument panel fuse box (see fuse "POWER OUTLET" (Front Power Outlet)) and in the Engine compartment fuse box (fuses "1 POWER OUTLET" (Cigarette Lighter), "2 POWER OUTLET" (Rear Power Outlet) and "3 POWER OUTLET" (Power Outlet Relay)).
---
Instrument panel
The fuse box is located in the instrument panel (on the driver's side), behind the cover.
Left-hand drive vehicles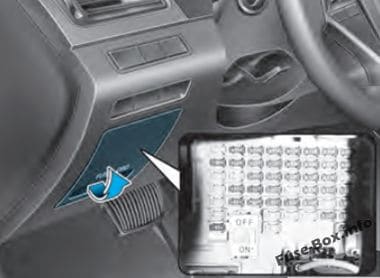 Right-hand drive vehicles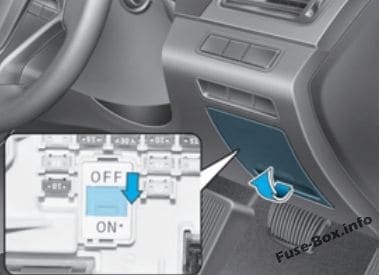 Engine compartment
The fuse box is located in the engine compartment (left-side).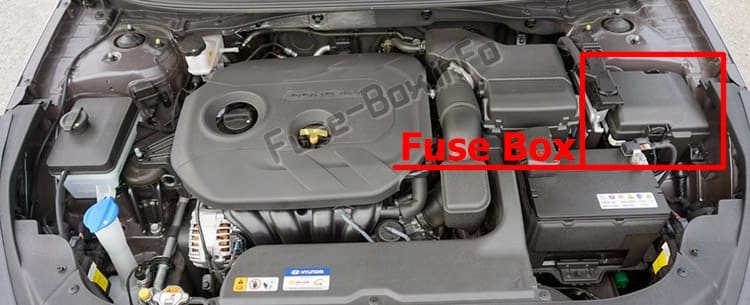 Battery terminal (main fuse)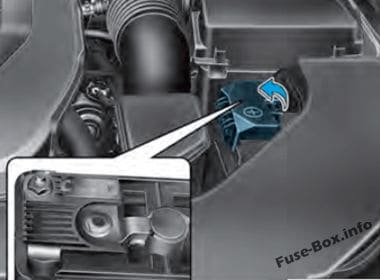 2014, 2015, 2016
Instrument panel (version 1)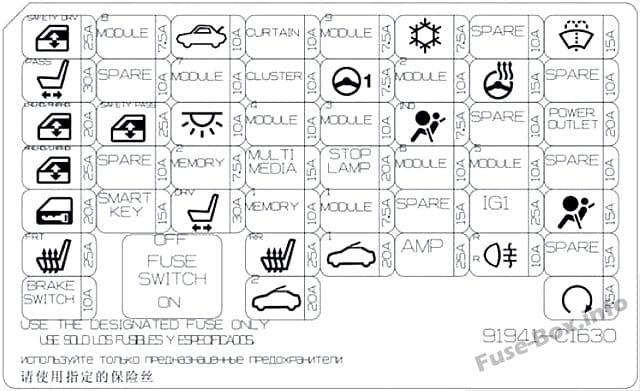 Assignment of the fuses in the instrument panel (Version 1) (2014, 2015, 2016)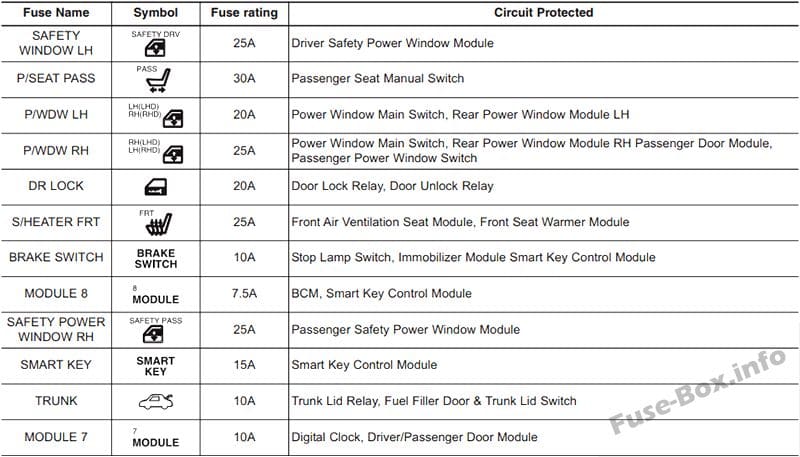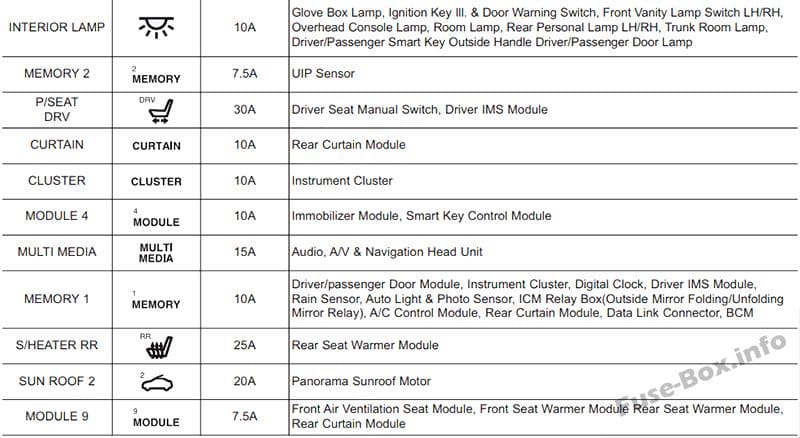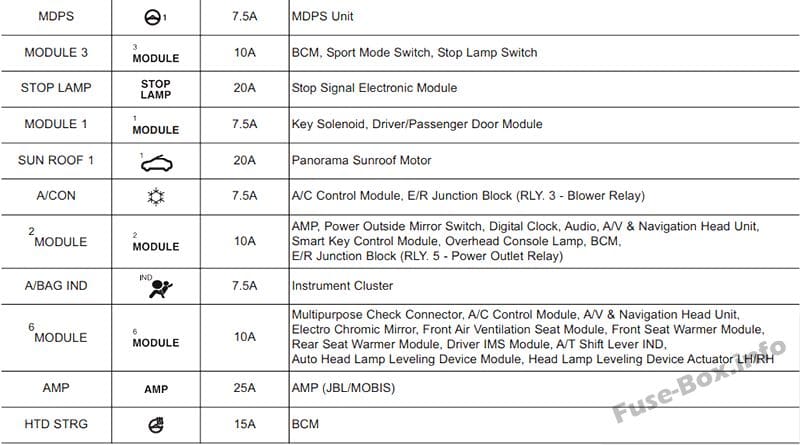 Engine compartment (version 1)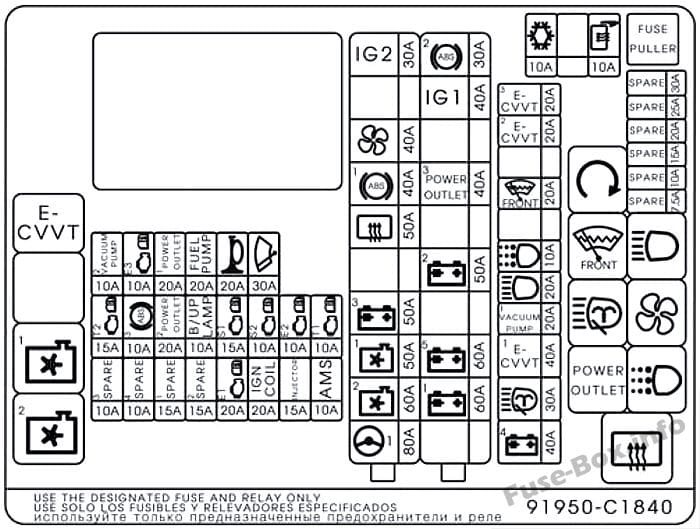 Assignment of the fuses in the Engine compartment (Version 1) (2014, 2015, 2016)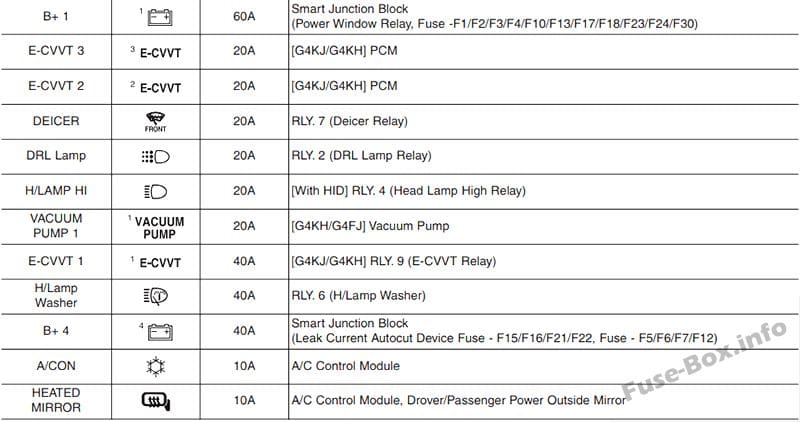 Instrument panel (version 2)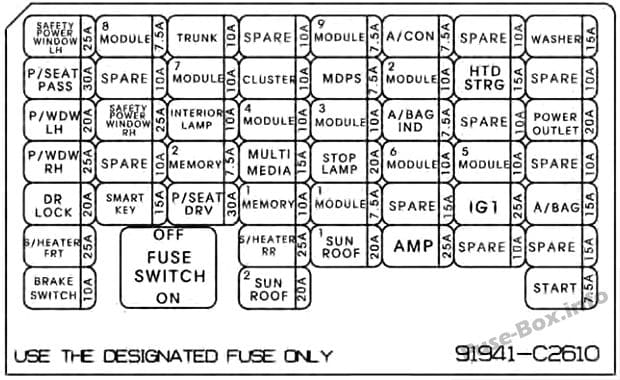 Assignment of the fuses in the instrument panel (Variant 2) (2014, 2015, 2016)
| Name | Amp rating | Protected Component |
| --- | --- | --- |
| SAFETY WINDOW LH | 25A | Driver Safety Power Window Module |
| P/SEAT PASS | 30A | Passenger Seat Manual Switch |
| P/WDW LH | 20A | Power Window Main Switch, Rear Power Window Module LH |
| P/WDW RH | 25A | Power Window Main Switch, Rear Power Window Module RH, Passenger Door Module, Passenger Power Window Switch |
| DR LOCK | 20A | Door Lock Relay, Door Unlock Relay |
| S/HEATER FRT | 25A | Front Air Ventilation Seat Module, Front Seat Warmer Module |
| BRAKE SWITCH | 10A | Stop Lamp Switch, Immobilizer Module, Smart Key Control Module |
| 8 MODULE | 7.5A | BCM, Smart Key Control Module |
| SAFETY POWER WINDOW RH | 25A | Passenger Safety Power Window Module |
| SMART KEY | 15A | Smart Key Control Module |
| TRUNK | 10A | Trunk Lid Relay, Fuel Filler Door & Trunk Lid Switch |
| 7 MODULE | 10A | Digital Clock, Driver/Passenger Door Module |
| INTERIOR LAMP | 10A | Glove Box Lamp, Ignition Key Illumination & Door Warning Switch, Front Vanity Lamp Switch LH/RH, Overhead Console Lamp, Room Lamp, Rear Personal Lamp LH/RH, Trunk Room Lamp, Driver/Passenger Smart Key Outside Handle, Driver/Passenger Door Lamp |
| 2 MEMORY | 7.5A | - |
| P/SEAT DRV | 30A | Driver Seat Manual Switch, Driver IMS Module |
| CLUSTER | 10A | Instrument Cluster |
| 4 MODULE | 10A | Immobilizer Module, Smart Key Control Module |
| MULTI MEDIA | 15A | Audio, A/V & Navigation Head Unit, TMU Unit |
| 1 MEMORY | 10A | Immobilizer Module, Smart Key Control Module |
| S/HEATER RR | 25A | Rear Seat Warmer Module |
| 2 SUN ROOF | 20A | Panoramic Sunroof Motor |
| 9 MODULE | 7.5A | Front Air Ventilation Seat Module, Front Seat Warmer Module, Rear Seat Warmer Module |
| MDPS | 7.5A | MDPS Unit (Column Type/Rack Type) |
| 3 MODULE | 10A | BCM, Sport Mode Switch, Stop Lamp Switch |
| STOP LAMP | 20A | Stop Signal Electronic Module |
| 1 MODULE | 7.5A | Key Solenoid, Driver/Passenger Door Module |
| 1 SUN ROOF | 20A | Panoramic Sunroof Motor |
| A/CON | 7.5A | A/C Control Module, E/R Junction Block (RLY. 3 - Blower Relay) |
| 2 MODULE | 10A | Audio, A/V & Navigation Head Unit, TMU Unit, Digital Clock, BCM, AMP, Power Outside Mirror Switch, Smart Key Control Module, Overhead Console Lamp, E/R Junction Block (RLY. 5 - Power Outlet Relay) |
| A/BAG IND | 7.5A | Instrument Cluster |
| 6 MODULE | 10A | Multipurpose Check Connector, A/C Control Module, TMU Unit, A/V & Navigation Head Unit, Electro Chromic Mirror, Front Air Ventilation Seat Module, Front Seat Warmer Module, Rear Seat Warmer Module, Driver IMS Module, A/T Shift Lever IND. |
| AMP | 25A | AMP (JBL/MOBIS) |
| HTD STRG | 15A | BCM |
| 5 MODULE | 10A | Front Console Switch, Tire Pressure Monitoring Module, Lane Departure Warning Unit, Smart Cruise Control Unit, Fuel Filler Door & Trunk Lid Switch, Sport Mode Switch, Rear Parking Assist Sensor LH/RH, Rear Parking Assist Sensor, LH/RH (Center), Blind Spot Detection Radar LH/RH |
| IG1 | 25A | PCB Block |
| WASHER | 15A | Multifunction Switch (Wiper Low & Washer Switch) |
| POWER OUTLET | 20A | Front Power Outlet |
| A/BAG | 15A | SRS Control Module, Occupant Detection Sensor |
| START | 7.5A | [Without Smart Key & Immobilzer] ICM Relay Box (Burglar Alarm Relay), Immobilzer] ICM Relay Box (Burglar Alarm Relay), Transaxle Range Switch, PCM (G4KJ/G4KH) |
Engine compartment (version 2)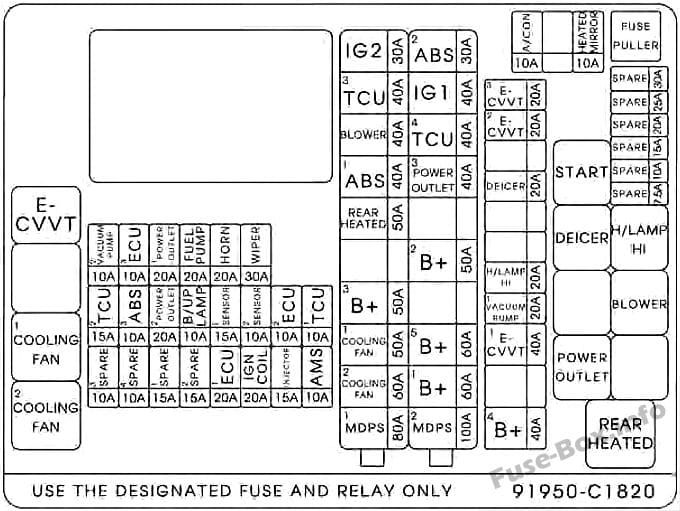 Assignment of the fuses in the Engine compartment (Variant 2) (2014, 2015, 2016)
| Name | Amp rating | Protected Component |
| --- | --- | --- |
| MULTI FUSE (TYPE A): | | |
| IG2 | 30A | [Without Smart Key] Relay 8 (Start Relay), Ignition Switch, [With Smart Key] Relay 8 (Start Relay), PCB Block (IG2 Relay) |
| 3 TCU | 40A | [G4FJ - DCT] TCM |
| BLOWER | 40A | Relay 3 (Blower Relay) |
| 1 ABS | 40A | ESC Module |
| REAR HEATED | 50A | Relay 1 (Rear Heated Relay) |
| 1 B+ | 50A | Smart Junction Block (IPS2 (4CH), IPS3 (4CH), Fuse - F28/F29) |
| 1 COOLING FAN | 50A | [G4KH/G4FJ] Relay 11 (Cooling Fan Relay), [G4KJ] Relay 12 (Cooling Fan Relay) |
| 2 COOLING FAN | 60A | [G4KH/G4FJ] Relay 12 (Cooling Fan Relay) |
| 1 MDPS | 80A | MDPS Unit (Column Type) |
| MULTI FUSE (TYPE B): | | |
| 2 ABS | 30A | ESC Module, Multipurpose Check Connector |
| IG1 | 40A | [Without Smart Key] Ignition Switch, [With Smart Key] PCB Block (IG1/ACC Relay) |
| 4 TCU | 40A | [G4FJ - DCT] TCM |
| 3 POWER OUTLET | 40A | Relay 5 (Power Outlet Relay) |
| 2 B+ | 50A | Smart Junction Block (IPS1 (4CH), IPS4 (4CH), IPS5 (4CH), Fuse - F36) |
| 5 B+ | 60A | PCB Block (Engine Control Relay, Fuse - F4/F5/F6/F13/F14/F22) |
| 1 B+ | 60A | Smart Junction Block (Power Window Relay, Fuse -F1/F2/F3/F4/F10/F13/F17/F23/F24/F30) |
| 2 MDPS | 100A | MDPS Unit (Rack Type) |
| FUSE: | | |
| 3 E-CVVT | 20A | [G4KJ/G4KH] PCM |
| 2 E-CVVT | 20A | [G4KJ/G4KH] PCM |
| DEICER | 20A | Relay 5 (Deicer Relay) |
| H/LAMP HI | 20A | [With HID] Relay 5 (Head Lamp High Relay) |
| 1 VACUUM PUMP | 20A | [G4KH/G4FJ] Vacuum Pump |
| 1 E-CVVT | 40A | [G4KJ/G4KH] Relay 9 (E-CVVT Relay) |
| 4 B+ | 40A | Smart Junction Block (Leak Current Autocut Device Fuse - F15/F21/F22, Fuse - F5/F6/F7/F12) |
| A/CON | 10A | A/C Control Module |
| HEATED MIRROR | 10A | ECM (G4FJ), A/C Control Module, Drover/Passenger Power Outside Mirror |
| 2 VACUUM PUMP | 10A | [G4KH/G4FJ] Vacuum Pump |
| 3 ECU | 10A | PCM/ECM |
| 1 POWER OUTLET | 20A | Cigarette Lighter |
| FUEL PUMP | 20A | Fuel Pump Relay |
| HORN | 20A | Horn Relay, ICM Relay Box (Burglar Alarm Horn Relay) |
| WIPER | 30A | Front Wiper (Low) Relay, Front Wiper (High) Relay |
| 2 TCU | 15A | Transaxle Range Switch, TCM (G4FJ-DCT) |
| 3 ABS | 10A | ESC Module, MDPS Unit |
| 2 POWER OUTLET | 20A | Rear Power Outlet |
2018, 2019
Instrument panel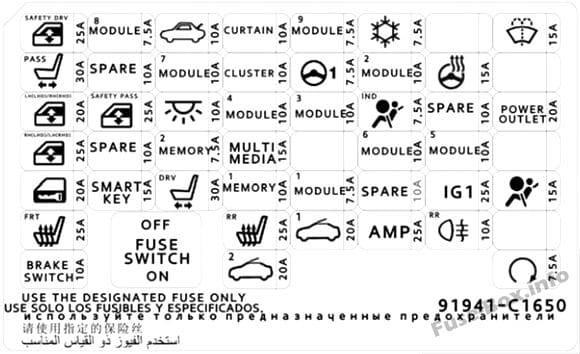 Assignment of the fuses in the instrument panel (2018)
| Name | Amp rating | Protected Component |
| --- | --- | --- |
| SAFETY WINDOW LH | 25A | Driver Safety Power Window Module |
| P/SEAT PASS | 30A | Passenger Seat Manual Switch |
| P/WDW LH | 20A | Power Window Main Switch, Rear Power Window Module LH |
| P/WDW RH | 25A | Power Window Main Switch, Rear Power Window Module RH, Passenger Door Module, Passenger Power Window Switch |
| DR LOCK | 20A | Door Lock Relay, Door Unlock Relay |
| S/HEATER FRT | 25A | Front Air Ventilation Seat Module, Front Seat Warmer Module |
| BRAKE SWITCH | 10A | Stop Lamp Switch, Immobilizer Module, Smart Key Control Module |
| 8 MODULE | 7.5A | BCM, Smart Key Control Module |
| SAFETY POWER WINDOW RH | 25A | Passenger Safety Power Window Module |
| SMART KEY | 15A | Smart Key Control Module |
| TRUNK | 10A | Trunk Lid Relay, Fuel Filler Door & Trunk Lid Switch |
| 7 MODULE | 10A | Digital Clock, Driver/Passenger Door Module |
| INTERIOR LAMP | 10A | Ignition Key III. & Door Warning Switch, Front Vanity Lamp Switch LH/RH, Overhead Console Lamp, Room Lamp, Rear Personal Lamp LH/RH, Trunk Room Lamp, Driver/Passenger Smart Key Outside Handle |
| 2 MEMORY | 7.5A | Not used |
| P/SEAT DRV | 30A | Driver Seat Manual Switch, Driver IMS Module |
| CLUSTER | 10A | Instrument Cluster |
| 4 MODULE | 10A | Immobilizer Module, Smart Key Control Module |
| MULTI MEDIA | 15A | A/V & Navigation Head Unit |
| 1 MEMORY | 10A | Driver/Passenger Door Module, Driver IMS Module, A/C Control Module, Auto Light & Photo Sensor, Electro Chromic Mirror, Instrument Cluster, Tire Pressure Monitoring Module, Digital Clock, Wireless Charger, A/V & Navigation Head Unit |
| S/HEATER RR | 25A | Rear Seat Warmer Module |
| 2 SUN ROOF | 20A | Panoramic Sunroof Motor |
| 9 MODULE | 7.5A | Front Air Ventilation Seat Module, Front Seat Warmer Module, Rear Seat Warmer Module |
| MDPS | 7.5A | MDPS Unit (Column Type/Rack Type) |
| 3 MODULE | 10A | BCM, Sport Mode Switch, Stop Lamp Switch |
| 1 MODULE | 7.5A | Key Solenoid, Driver/Passenger Door Module |
| 1 SUN ROOF | 20A | [With Panorama] Panorama Sunroof Motor [W/O Panorama] Sunroof Motor |
| A/CON | 7.5A | A/C Control Module, E/R Junction Block (Blower Relay) |
| 2 MODULE | 10A | A/V & Navigation Head Unit, Digital Clock, USB Charger, BCM, AMP, Power Outside Mirror Switch, Wireless Charger, Smart Key Control Module, Overhead Console Lamp, E/R Junction Block (Power Outlet Relay) |
| A/BAG IND | 7.5A | Instrument Cluster |
| 6 MODULE | 10A | Multipurpose Check Connector, A/C Control Module, A/V & Navigation Head Unit, Front Air Ventilation Seat Module, Front Seat Warmer Module, Rear Seat Warmer Module, Driver IMS Module, Head Lamp LH/RH (DBL), ATT Shift Lever IND. |
| AMP | 25A | AMP (JBL/MOBIS) |
| HTD STRG | 15A | BCM |
| 5 MODULE | 10A | Front Console Switch, Tire Pressure Monitoring Module, Lane Keeping Assist Module, Smart Cruise Control Unit, Fuel Filler Door & Trunk Lid Switch, AEB Module, Head Lamp LH/RH (DBL), Rear Parking Assist Sensor LH/RH, Rear Parking Assist Sensor LH/RH (Center), Blind Spot Detection Radar LH/RH |
| IG1 | 25A | PCB Block (Fuse - VACUUM PUMP2/ TCU2/ ECU3/ ABS3) |
| WASHER | 15A | Multifunction Switch (Wiper Low & Washer Switch) |
| POWER OUTLET | 20A | Front Power Outlet |
| A/BAG | 15A | SRS Control Module, Occupant Detection Sensor |
| START | 7.5A | [W/O Smart Key & IMMO.] ICM Relay Box (Burglar Alarm Relay) [With Smart Key / IMMO.] Transaxle Range Switch, PCM (G4KJ/G4KH) |
| 10 MODULE | 10A | BCM |
Engine compartment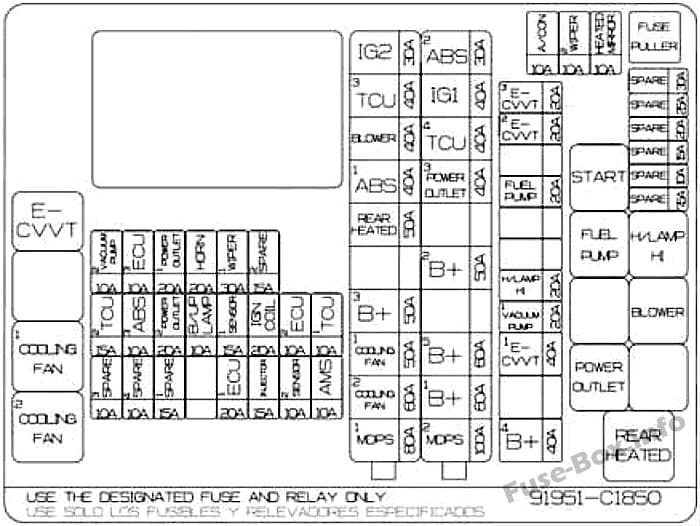 Assignment of the fuses in the Engine compartment (2018)
| Name | Amp rating | Protected Component |
| --- | --- | --- |
| MULTI FUSE (TYPE A): | | |
| IG2 | 30A | [Without Smart Key] (Start Relay), Ignition Switch, [With Smart Key] (Start Relay), PCB Block (IG2 Relay) |
| 3 TCU | 40A | [G4FJ - DCT] TCM |
| BLOWER | 40A | (Blower Relay) |
| 1 ABS | 40A | ESC Module |
| REAR HEATED | 50A | (Rear Heated Relay) |
| 1 B+ | 50A | Smart Junction Block (IPS2 (4CH), IPS3 (4CH)) |
| 1 COOLING FAN | 50A | [G4KH/G4FJ] (Cooling Fan Relay), [G4KJ] (Cooling Fan Relay) |
| 2 COOLING FAN | 60A | [G4KH/G4FJ] (Cooling Fan Relay) |
| 1 MDPS | 80A | MDPS Unit (Column Type) |
| MULTI FUSE (TYPE B): | | |
| 2 ABS | 30A | ESC Module, Multipurpose Check Connector |
| IG1 | 40A | [Without Smart Key] Ignition Switch, [With Smart Key] PCB Block (IG1/ACC Relay) |
| 4 TCU | 40A | [G4FJ - DCT] TCM |
| 3 POWER OUTLET | 40A | (Power Outlet Relay) |
| 2 B+ | 50A | Smart Junction Block (IPS1 (4CH), IPS4 (4CH), IPS5 (4CH), IPS6 (2CH), IPS7 (1CH), Fuse - AMP) |
| 5 B+ | 60A | PCB Block (Engine Control Relay, Fuse -TUC1, ECU1, HORN, AMS, WIPER) |
| 1 B+ | 60A | Smart Junction Block (Power Window Relay, Fuse - SAFETY POWER WINDOW LH, P/SEAT PASS,SAFETY POWER WINDOW RH, P/SEAT DRV, MODULE1, P/WDW LH, P/WDW RH, TRUNK, S/HEATER RR, SUNROOF2, SUNROOF1) |
| 2 MDPS | 100A | MDPS Unit (Rack Type) |
| FUSE: | | |
| 3 E-CVVT | 20A | [G4KJ/G4KH] PCM |
| 2 E-CVVT | 20A | [G4KJ/G4KH] PCM |
| FUEL PUMP | 20A | (Fuel Pump Relay) |
| H/LAMP HI | 20A | [With HID] (Head Lamp High Relay) |
| 1 VACUUM PUMP | 20A | [G4KH/G4FJ] Vacuum Pump |
| 1 E-CVVT | 40A | [G4KJ/G4KH] (E-CVVT Relay) |
| 4 B+ | 40A | Smart Junction Block (Leak Current Auto-cut Device Fuse - INTERIOR LAMP, MULTI MEDIA, MEMORY1, Fuse - DOOR LOCK, S/HEATER FR, BRAKE SWITCH, SMART KEY, MODULE10) |
| A/CON | 10A | A/C Control Module |
| HEATED MIRROR | 10A | ECM (G4FJ), A/C Control Module, Drover/Passenger Power Outside Mirror |
| | | |
| PCB Block (FUSES): | | |
| 2 VACUUM PUMP | 10A | [G4KH/G4FJ] Vacuum Pump, Vacuum Switch |
| 3 ECU | 10A | PCM/ECM |
| 1 POWER OUTLET | 20A | Front Cigarette Lighter & Power Outlet #2 |
| FUEL PUMP | 20A | Fuel Pump Relay |
| HORN | 20A | Horn Relay, ICM Relay Box (Burglar Alarm Horn Relay) |
| WIPER | 30A | Front Wiper (Low) Relay, Front Wiper (High) Relay |
| 2 TCU | 15A | Transmission Range Switch, TCM (G4FJ-DCT) |
| 3 ABS | 10A | ESC Module |
| 2 POWER OUTLET | 20A | Rear Power Outlet |
| B/UP LAMP | 10A | Transmission Range Switch, PCM (G4KJ/G4KH-A/T), TCM (G4FJ-DCT), Electro Chromic Mirror, Rear Combination Lamp (IN) LH/RH |
| 1 SENSOR | 15A | Oxygen Sensor (Up/Down) |
| 2 SENSOR | 15A | Purge Control Solenoid Valve, Canister Close Valve, RCV Control Solenoid Valve, Fuel Pump Relay, E/R Junction Block (Cooling Fan High Relay, Fuel Pump Relay), [G4KJ/G4KH] Variable Intake Solenoid Valve, Oil Control Valve (Exhaust), [G4FJ] Oil Control Valve #1/#2 (Intake/Exhaust) |
| 1 ECU | 10A | PCM/ECM |
| 1 TCU | 10A | PCM (G4KJ/G4KH-A/T), TCM (G4FJ-DCT) |
| 1 ECU | 10A | PCM/ECM |
| IGN COIL | 20A | Ignition Coil #1/#2/#3/#4 |
| INJECTOR | 15A | Not Used |
| AMS | 10A | Battery Sensor |