Fuse Layout Cadillac CT5 2020-2022
Cigar lighter (power outlet) fuses in the Cadillac CT5 are the Circuit Breakers CB1 and CB2 in the Instrument panel fuse box.
Passenger compartment
The fuse box is located on the driver side of the instrument panel.
To access, remove the end cover by gently prying with a plastic tool near each clip, beginning at the point shown.
To install the cover, insert the tabs on the back of the cover into the slots in the instrument panel. Align the clips with the slots in the instrument panel, and press the cover into place.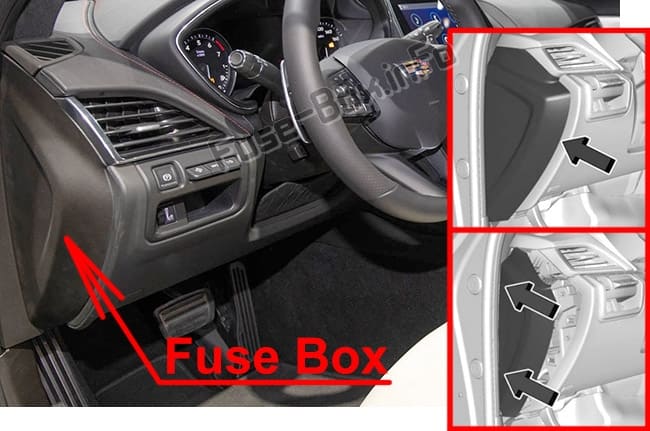 Engine compartment
Lift the cover to access the fuses.
Luggage compartment
The rear compartment fuse block is behind a cover on the driver's side of the rear compartment.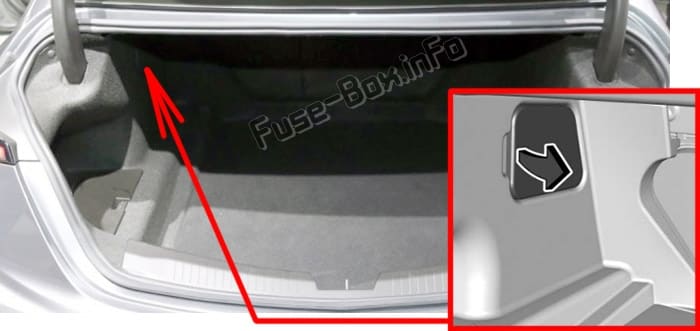 Passenger compartment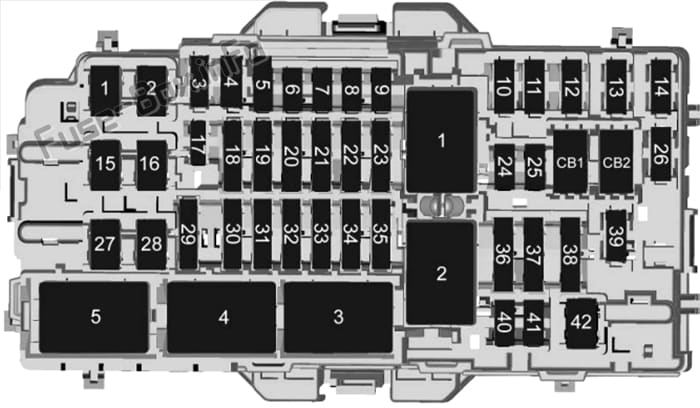 Assignment of the fuses in the Passenger compartment (2020, 2021, 2022)
№
Description
1
—
2
HVAC blower
3
—
4
—
5
2020-2021: Theft deterrent/ Universal garage door opener
2022: Theft Deterrent/ Universal Garage Door Opener/ Overhead Console/ Rain Sensor
6
—
7
Air quality ionizer
8
Heated steering wheel
9
—
10
Electronic steering column lock 1
11
—
12
—
13
—
14
—
15
—
16
—
17
—
18
2020-2021: Display/ Infotainment/ USB
2022: Display/ Infotainment/ USB/ Multi-function Control Module
19
2020-2021: Airbag/ Automatic occupant sensing/ Data link connection/ Wireless charging module
2022: Sensing and Diagnostic Module/ Automatic Occupant Sensing/ Data Link Connection/ Wireless Charging Module/ Virtual Key Module
20
Power steering column module/ Electronic steering column lock 2
21
2022: Driver Monitor System/ Performance Data Recorder
22
—
23
—
24
—
25
USB
26
—
27
—
28
—
29
—
30
—
31
Headlamp level
32
—
33
Body ignition/IP ignition
34
Exhaust valve
35
Transmission control module ignition/ Engine control module ignition/ Shift ignition/ Brake ignition
36
Shift module
37
Body control module 1/ Electronic park brake switch
38
Center stack module
39
Steering wheel controls
40
Body control module 2
41
Body control module 3
42
Body control module 4
CB1
Auxiliary power outlet 1 (Circuit Breaker)
CB2
Auxiliary power outlet 2 (Circuit Breaker)
Relays
1
Run after park/ Accessory
2
Run crank
3
—
4
—
5
—
Engine compartment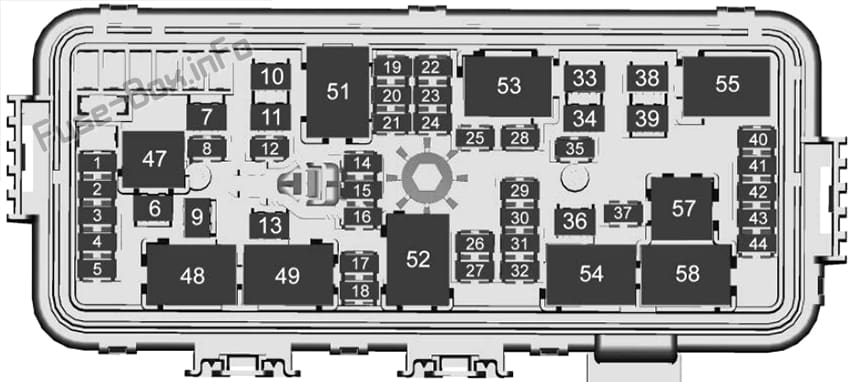 Assignment of the fuses and relays in the engine compartment (2020, 2021, 2022)
№
Description
1
Long range radar front sensor
2
Park/Daytime running lamps
3
Exterior lighting module 4
4
Exterior lighting module 7
5
Headlamp level
6
—
7
Electronic brake control module
8
Washer pump
9
—
10
—
11
—
12
Horn
13
Front wiper
14
Exterior lighting module 6
15
Exterior lighting module 1
16
Exterior lighting module 5
17
Exterior lighting module 3
18
Aero shutter
19
—
20
—
21
Virtual key system/ Power sounder module
22
2022: Engine Control Module Battery
23
Transmission control module
24
Active engine mount
25
—
26
Engine control module
27
Injectors/Ignition 2
28
Charged air cooler
29
2020-2021: Transmission coolant pump
2022: Transmission Aux Oil Pump/ Transmission Reverse Lock Out
30
Injectors/Ignition 1
31
Emissions 1
32
Emissions 2
33
Starter solenoid
34
—
35
2020-2021: Coolant pump
36
Starter pinion
37
AC clutch
38
—
39
—
40
—
41
—
42
Water pump
43
—
44
—
Relays
47
—
48
Front wiper speed
49
Front wiper control
51
—
52
Engine control module
53
Starter solenoid
54
Starter pinion
55
—
57
AC clutch
58
—
Luggage compartment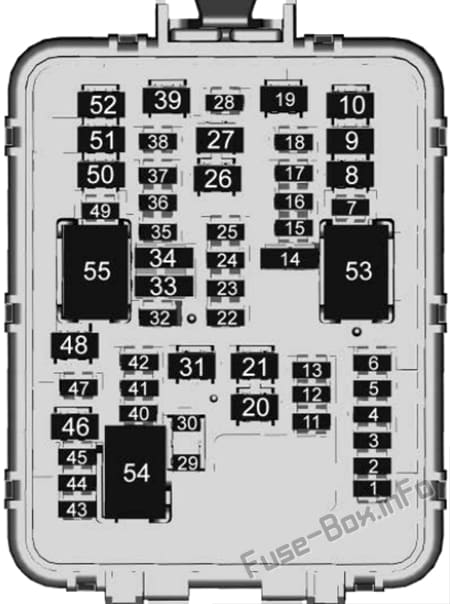 Assignment of the fuses and relays in the Rear compartment (2020, 2021, 2022)
№
Description
1
Remote function actuator
2
2020-2021: Engine control module
3
Driver heated seat
4
Fuel tank zone module
5
—
6
—
7
—
8
—
9
—
10
Motor seat belt passenger
11
Canister vent solenoid
12
Sunroof
13
—
14
—
15
Passenger heated seat
16
—
17
Electronic suspension control
18
—
19
Motor seat belt driver
20
Rear defog
21
DC to DC transformer 2
22
Driver Power Window/ Door Handle Switch
23
2020-2021: External object calculating module/ Front camera module
2022: External Object Calculating Module/ Front Camera Module/ High Definition Localization Module/ Short Range Radar
24
Passenger Power Window/ Door Handle Switch
25
—
26
2020-2021: Trailer
2022: Amplifier (V-Series Blackwing)
27
Rear drive control module
28
—
29
—
30
—
31
DC to DC transformer 1
32
Transfer case electronic control
33
Central gateway module - side blind zone alert
34
Video processing module
35
Hands free closure release
36
Exterior lighting module 2
37
Passenger memory seat module
38
2020-2021: Trailer 2
39
Right front/Right rear window
40
—
41
—
42
Amplifier
43
Park assist module
44
Driver memory seat module
45
OnStar
46
—
47
—
48
—
49
2020-2021: Trailer
50
Driver seat
51
Left front/Left rear window
52
Passenger seat
Relays
53
—
54
—
55
Run