Fuse Layout Chrysler 300M 1999-2004
---
Cigar lighter (power outlet) fuses in the Chrysler 300M are the fuse №6 in the Instrument panel fuse box and fuse Y in the engine compartment.
---
Fuse box location
It is behind the end cover on the left side of the instrument panel.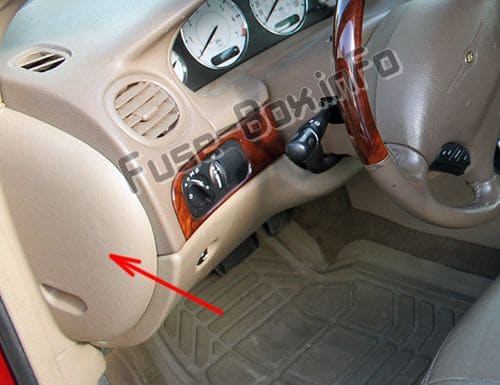 Pull the cover straight away from the instrument panel for access to the fuses.

Fuse Box Diagram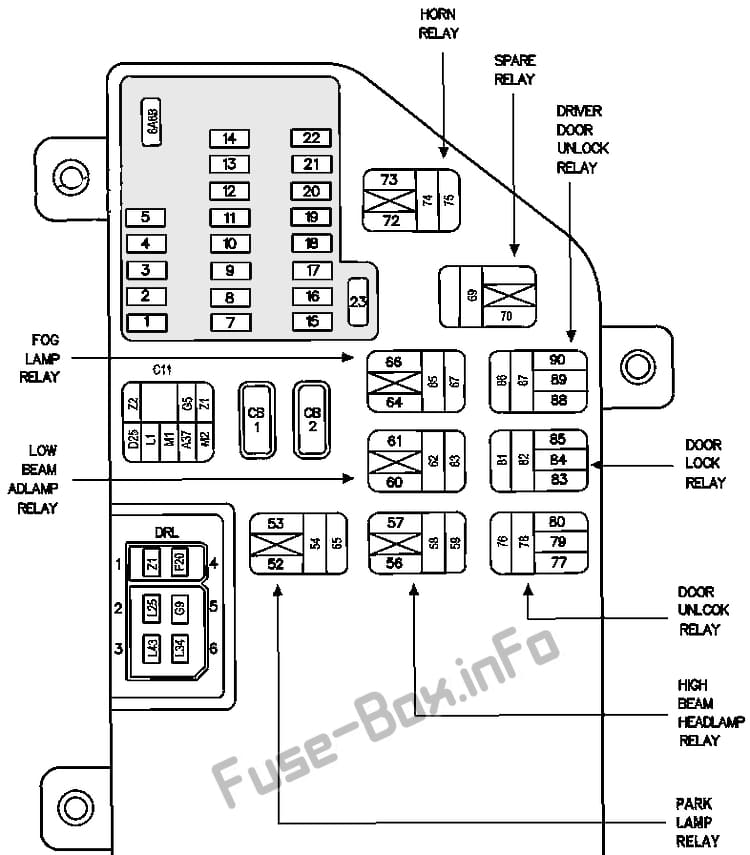 Assignment of fuses in the interior fuse box
| Cavity | Amp | Circuits |
| --- | --- | --- |
| 1 | 10 Amp Red | Transmission Controller, Gauges, Autostick |
| 2 | 10 Amp Red | Right High Beam Headlight |
| 3 | 10 Amp Red | Left High Beam Headlight |
| 4 | 10 Amp Red | Radio, CD Player |
| 5 | 10 Amp Red | Washer Motor |
| 6 | 15 Amp Lt. Blue | Power Outlet |
| 7 | 20 Amp Yellow | Tail, License, Parking, Illumination Lights, Instrument Cluster |
| 8 | 10 Amp Red | Airbag |
| 9 | 10 Amp Red | Turn Signal Lights, Turn Signal/Hazard Indicator |
| 10 | 15 Amp Lt. Blue | Right Low Beam |
| 11 | 20 Amp Yellow | High Beam Relay, High Beam Indicator, High Beam Switch |
| 12 | 15 Amp Lt. Blue | Left Low Beam Headlight |
| 13 | 10 Amp Red | Fuel Pump Relay, Power Train Control Module |
| 14 | 10 Amp Red | Cluster, Day/Night Mirror, Sunroof, Overhead Console, Garage Door Opener, Body Control Module |
| 15 | 10 Amp Red | Daytime Running Light Module (Canada) |
| 16 | 20 Amp Yellow | Fog Light Indicator |
| 17 | 10 Amp Red | ABS Control, Back Up Lights, Daytime Running Lights, A/C Heater Control, |
| 18 | 20 Amp Yellow | Power Amplifier, Horn |
| 19 | 15 Amp Lt. Blue | Overhead Console, Garage Door Opener, Trunk, Overhead, Rear Reading, and Visor Vanity Lights, Trunk Release Solenoid, Power Mirrors, Power Door Locks, Body Control Module, Aspirator Motor |
| 20 | 20 Amp Yellow | Brake Lights |
| 21 | 10 Amp Red | Leak Detection Pump, Low Rad Relay, High Rad Relay, A/C Clutch Relay |
| 22 | 10 Amp Red | Airbag |
| 23 | 30 Amp Green | Blower Motor, ATC Power Module |
| CB1 | 20 Amp C/BRKR | Power Window Motors |
| CB2 | 20 Amp C/BRKR | Power Door Lock Motors, Power Seats |
Power Distribution Center
Fuse box location
A Power Distribution Center is located in the engine compartment.
This center contains fuses and relays for circuits that operate only under the hood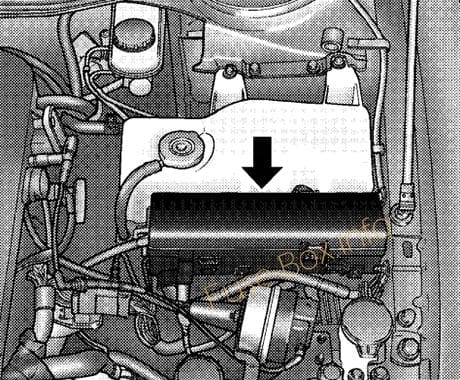 Fuse Box Diagram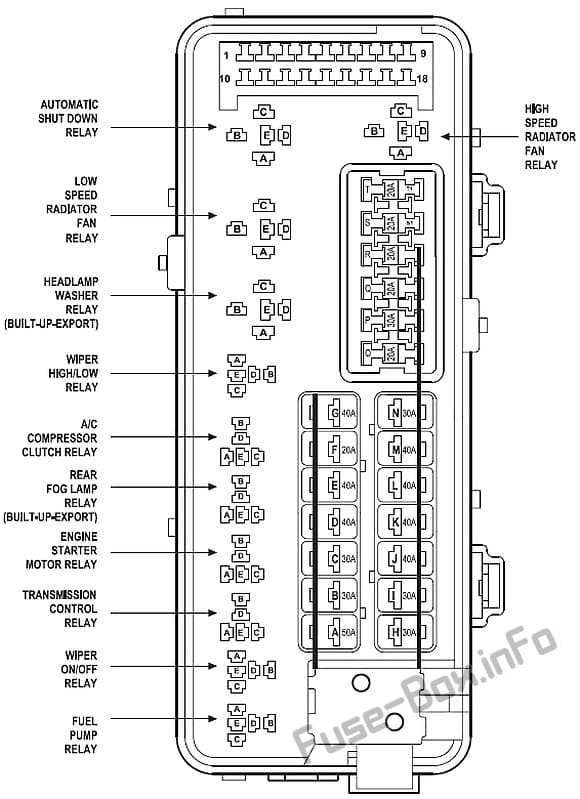 Assignment of fuses in the engine compartment
| № | Amp Rating | Description |
| --- | --- | --- |
| A | 50 | Rear Window Defogger Relay, Body Control Module, Manual Temperature Control Head |
| B | 30 or 40 | Air Conditioner Compressor Clutch Relay, Radiator Fan Relay (High Speed) |
| C | 30 | High Beam Headlamp Relay (Fuse: "2", "3"), Fuse: "15", "16" |
| D | 40 | Low Beam Headlamp Relay (Fuse: "10", "11", "12"), "CB2", Dorr Lock Relay, Door Unlock Relay, Driver Door Unlock Relay |
| E | 40 | Radiator Fan Relay (Low Speed) |
| F | 20 or 30 | Fuse "Y", "X" / Spare Relay |
| G | 40 | Starter Relay, Fuel Pump Relay, Ignition Switch (Fuse: "1", "4", "5", "6", "13", "14", "21", "22", "V") |
| H | 30 | ABS |
| I | 30 | Fuse: "19", "20" |
| J | 40 | Ignition Switch (Fuse: "8", "9", "17", "23", "CB1") |
| K | 40 | ABS |
| L | 40 | Fuse: "7", "18" |
| M | 40 | Front Wiper On/Off Relay, Front Wiper High/Low Relay, Body Control Module |
| N | 30 | Automatic Shut Down Relay, Powertrain Control Module |
| O | 20 | Combination Flasher (Hazard) |
| P | 30 | Export:  Headlamp Washer Relay, Body Control Module |
| Q | 20 | Transmission Control Relay |
| R | 20 | Export:  Rear Fog Lamp Relay |
| S | 20 | Fuel Injector, Ignition Coil, Capacitor, Short Runner Valve Solenoid (3.5 L), Manifold Tuning Valve |
| T | 20 | Powertrain Control Module |
| U | 20 | - |
| V | 10 | Starter Relay, Powertrain Control Module |
| W | 10 | Automatic Shut Down Relay |
| X | 20 | Spare Relay |
| Y | 15 | Power Outlet |