Fuse Layout Dodge Dart 2013-2016
---
Cigar lighter (power outlet) fuses in the Dodge Dart are the fuses F30 (Console Power Outlet), F84 (Cigar Lighter) and F85 (Power Outlet (Console), UCI/ AUX Port, Cigar Lighter) in the Underhood Fuse Box.
---
Interior Fuse Box
It is located on the driver's side under the instrument panel.
There are also fuses on the BCM, which is located behind the left side of the instrument panel.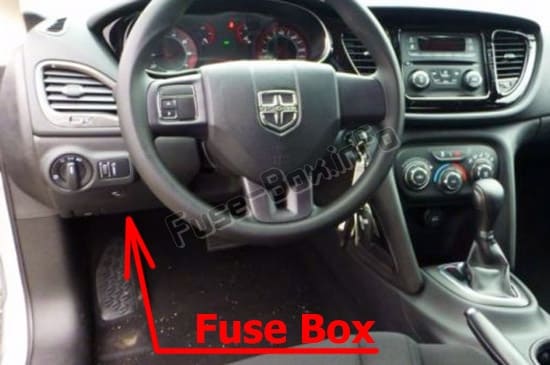 Underhood Fuse Box
The Power Distribution Center (PDC) is located on the right side of the engine compartment, near the battery.
Also, several fuses are located on the battery terminal.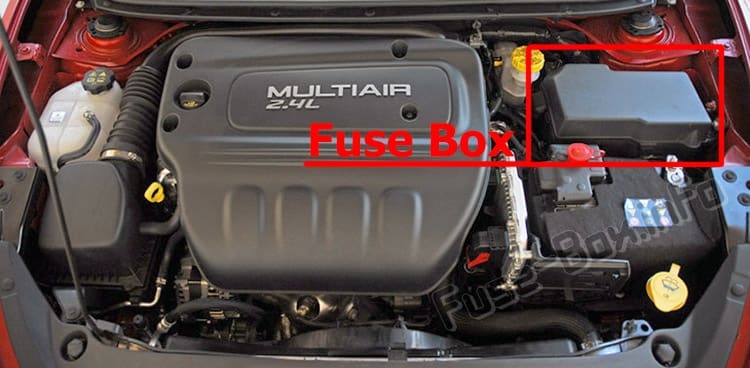 2013
Interior fuse box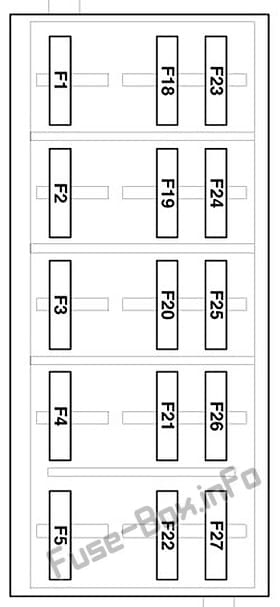 Assignment of fuses in the interior fuse box (2013)
| Cavity | Amp/Color | Description |
| --- | --- | --- |
| F1 | 20 Amp Yellow | Front Heated Seats |
| F2 | 20 Amp Yellow | Rear Heated Seats, Heated Steering Wheel |
| F3 | 10 Amp Red | PAM, Rear Camera, LBSS, RBSS, Compass |
| F4 | 15 Amp Blue | IPC |
| F5 | 10 Amp Red | HVAC, Humidity Sensor, In-Car Temperature Sensor, Inside Mirror Assembly |
| F18 | 15 Amp Blue | Radio |
| F19 | 10 Amp Red | Fuel Door |
| F20 | 10 Amp Red | SCCM, SAS, Switch Bank |
| F21 | 10 Amp Red | Diagnostic Port |
| F22 | 10 Amp Red | UGDO, EOM |
| F23 | 20 Amp Yellow | Sunroof |
| F24 | 5 Amp Tan | Direct Battery For Underhood PDC (RLY Coils) |
| F25 | 5 Amp Tan | DDCT Feed #4 |
| F26 | 5 Amp Tan | Stop Lamp Switch |
| F27 | 10 Amp Red | Pneumatic Lumbar Support (Solenoid), Pneumatic Lumbar Support (Pump Motor) |
Engine Compartment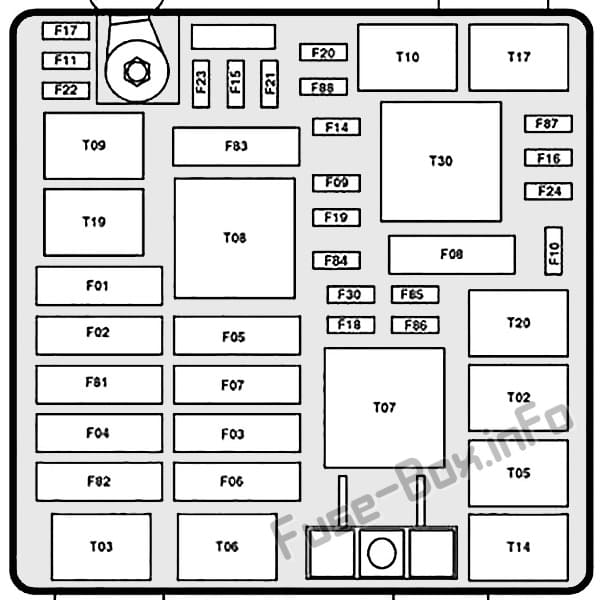 Assignment of fuses in the PDC (2013)
| Cavity | Maxi Fuse | Mini Fuse | Description |
| --- | --- | --- | --- |
| F01 | 70 Amp Tan | — | Direct Battery Feed #1 To BCM |
| F02 | 60 Amp Blue | — | Direct Batterv Feed #2 To BCM |
| F03 | 30 Amp Green | — | Output For Starter Relay #1 |
| F04 | 40 Amp Orange | — | ESP Pump Motor |
| F05 | 40 Amp Orange | — | DDCT Feed #1 (SDU) |
| F06 | 30 Amp Green | — | Direct Batterv Feed #3 To BCM |
| F07 | 40 Amp Orange | | EBL RLY Coil, Blower Motor RLY Coil |
| F09 | | 5 Amp Tan | Radiator Fan Enable RLY, Radiator Fan Enable RLY Coil |
| F10 | — | 10 Amp Red | ORC |
| F11 | — | 20 Amp Yellow | ECM, EPS, Backup Lamp Switch |
| F14 | — | 15 Amp Blue | DDCT Feed #2 |
| F15 | — | 15 Amp Blue | DDCT Feed #3 |
| F16 | — | 15 Amp Blue | Ignition Coils, Coil Capacitor |
| F17 | — | 15 Amp Blue | ESC, Brake Pedal Switch, OCM |
| F18 | — | 20 Amp Yellow | ECM |
| F19 | — | 10 Amp Red | A/C Compressor Clutch |
| F20 | — | 30 Amp Green | EBL |
| F21 | — | 20 Amp Yellow | Fuel Pump |
| F22 | — | 10 Amp Red | ORC |
| F23 | — | 25 Amp Natural | ESC |
| F24 | | 20 Amp Yellow | ECM, Fuel Injectors, Active Grill Shutter (AGS) |
| F30 | — | 20 Amp Yellow | Power Outlet (Console) |
| F81 | 60 Amp Blue | | Interior PDC Battery Feed, Power Seats |
| F82 | 30 Amp Green | — | Amplifier |
| F83 | 40 Amp Orange | — | HVAC Blower Motor |
| F84 | — | 20 Amp Yellow | Cigar Lighter |
| F85 | | 10 Amp Red | Sunroof, LRSM, Power Outlet (Console), UCI/ AUX Port, Cigar Lighter |
| F86 | — | 20 Amp Yellow | — |
| F87 | | 10 Amp Red | Wastegate, Purge Solenoid, OBD Vent Valve, Oxygen Sensor Heaters |
| F88 | — | 10 Amp Red | Heated Outside Mirrors |
Battery Fuses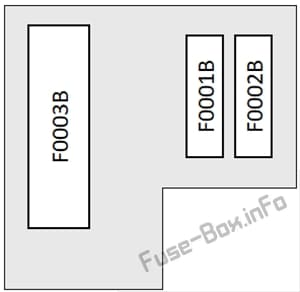 | № | Amperage | Description |
| --- | --- | --- |
| F0001B | 70A | Electric Power Steering (EPS) |
| F0002B | 60A | Radiator Fan - PWM |
| F0003B | 200A | Alternator |
2014, 2015, 2016
Interior fuse box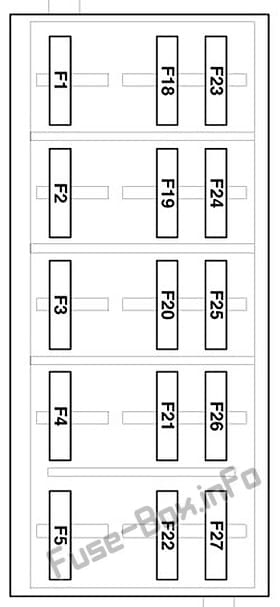 Assignment of fuses in the interior fuse box (2014, 2015, 2016)
| Cavity | Cartridge Fuse | Mini Fuse | Description |
| --- | --- | --- | --- |
| F1 | - | 20 Amp Yellow | Front Heated Seats - If Equipped |
| F2 | - | 20 Amp Yellow | Rear Heated Seats, Heated Steering Wheel - If Equipped |
| F3 | - | 10 Amp Red | Park Assist Module, Rear Camera, Left and Right Blind Spot Sensor, Compass - If Equipped |
| F4 | - | 15 Amp Blue | Instrument Cluster |
| F5 | - | 10 Amp Red | HVAC, Humidity Sensor, In-Car Temperature Sensor, Inside Mirror Assembly |
| F18 | - | 15 Amp Blue | Radio |
| F19 | - | 10 Amp Red | Fuel Door (2014) |
| F20 | - | 10 Amp Red | Steering Column Control Module, Switch Bank |
| F21 | - | 10 Amp Red | Diagnostic Port |
| F22 | - | 10 Amp Red | Universal Garage Door Opener, EOM |
| F23 | - | 20 Amp Yellow | Sunroof |
| F24 | - | 5 Amp Tan | Run/Accessory Relay |
| F25 | - | 5 Amp Tan | Transmission Control Module #4 |
| F26 | - | 5 Amp Tan | Stop Lamp Switch |
| F27 | - | 10 Amp Red | Pneumatic Lumbar Support |
Body Control Module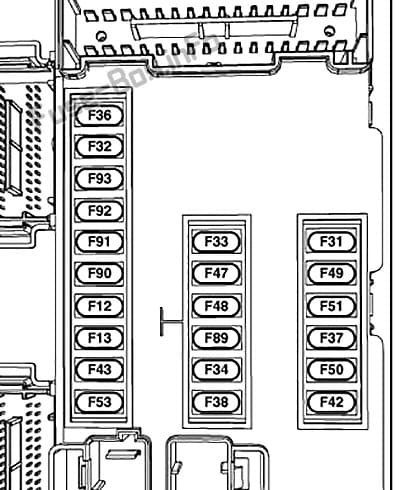 Assignment of fuses in the Body Control Module (2014, 2015, 2016)
| Cavity | Amp/Color | Description |
| --- | --- | --- |
| F12 | - | Spare |
| F13 | 15 Amp Blue | Left Headlamp |
| F31 | - | Spare |
| F32 | 10 Amp Red | Interior Lighting/Decklid/Liftgate Release |
| F33 | 25 Amp Clear | Window Motor - Driver |
| F34 | 25 Amp Clear | Window Motor - Passenger |
| F36 | 15 Amp Blue | Intrusion Module |
| F37 | 10 Amp Red | Instrument Panel Cluster |
| F38 | 20 Amp Yellow | Door Locks |
| F42 | - | Spare |
| F43 | 20 Amp Yellow | Windshield Washer Pump |
| F47 | 5 Amp Tan | Transmission Control Module (Tcm) |
| F48 | 20 Amp Yellow | Spare |
| F49 | 7.5 Amp Brown | Stop Lamp Switch |
| F50 | 7.5 Amp Brown | Pneumatic Lumbar Support |
| F51 | 7.5 Amp Brown | Cd/Hands-Free Module - Bluetooth/Radio Display |
| F53 | 7.5 Amp Brown | Driver Window Switch/Power Mirrors |
| F89 | 5 Amp Tan | Trunk Lamp |
| F90 | 7.5 Amp Brown | Front Fog Lamps - Right |
| F91 | 7.5 Amp Brown | Front Fog Lamps - Left |
| F92 | 7.5 Amp Brown | High Beams (Shutters) |
| F93 | 15 Amp Blue | Right Headlamp |
Engine Compartment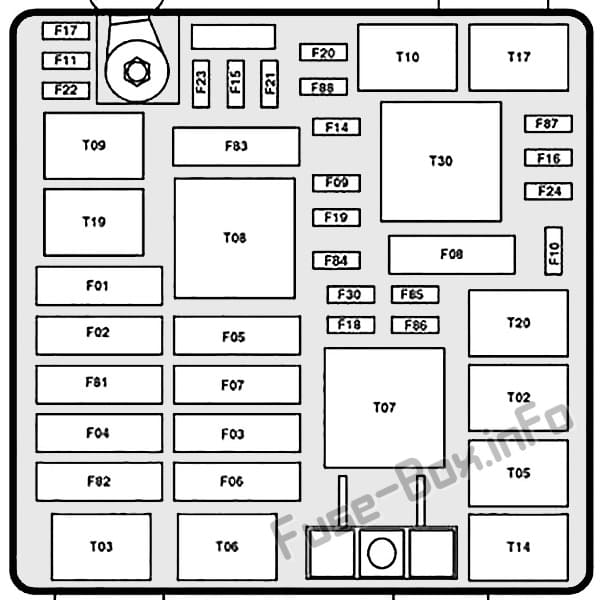 Assignment of fuses in the PDC (2014, 2015, 2016)
| Cavity | Maxi Fuse | Mini Fuse | Description |
| --- | --- | --- | --- |
| F01 | 70 Amp Tan | - | Body Control Module #1 |
| F02 | 60 Amp Blue | - | Body Control Module #2 |
| F03 | 30 Amp Green | - | Output For Starter Relay #1 |
| F04 | 40 Amp Orange | - | ESC Pump Motor |
| F05 | 40 Amp Orange | - | Transmission Control Module #1 |
| F06 | 30 Amp Green | - | Body Control Module #3 |
| F07 | 40 Amp Orange | - | EBL RLY Coil, Blower Motor RLY Coil |
| F09 | - | 5 Amp Tan | Radiator Fan |
| F10 | - | 10 Amp Red | ORC |
| F11 | - | 20 Amp Yellow | Run/Start, Engine Control Module |
| F14 | - | 15 Amp Blue | Transmission Control Module #2 |
| F15 | - | 15 Amp Blue | Transmission Control Module #3 |
| F16 | - | 15 Amp Blue | Engine Control Module, Ignition Coils |
| F17 | - | 15 Amp Blue | Brake System Module |
| F18 | - | 20 Amp Yellow | Engine Control Module |
| F19 | - | 10 Amp Red | A/C Compressor Clutch |
| F20 | - | 30 Amp Green | Rear Defroster (EBL) |
| F21 | - | 20 Amp Yellow | Fuel Pump |
| F22 | - | 10 Amp Red | Occupant Restraint Controller |
| F23 | - | 25 Amp Natural | Brake System Module |
| F24 | - | 20 Amp Yellow | Engine Control Module, Fuel Injectors |
| F30 | - | 20 Amp Yellow | Power Outlet (Console) |
| F81 | 60 Amp Blue | - | Interior PDC Battery Feed, Power Seats |
| F82 | 30 Amp Green | - | Amplifier |
| F83 | 40 Amp Orange | - | HVAC Blower Motor |
| F84 | - | 20 Amp Yellow | Cigar Lighter |
| F85 | - | 10 Amp Red | Sunroof, LRSM, Power Outlet (Console), UCI/AUX Port, Cigar Lighter |
| F86 | - | 20 Amp Yellow | - |
| F87 | - | 10 Amp Red | Wastegate, Purge Solenoid, OBD Vent Valve, Oxygen Sensor Heaters |
| F88 | - | 10 Amp Red | Heated Outside Mirrors |
Battery Fuses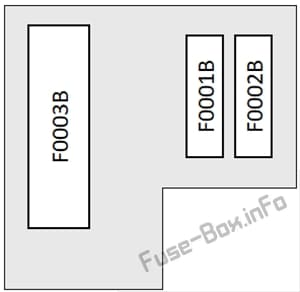 | № | Amperage | Description |
| --- | --- | --- |
| F0001B | 70A | Electric Power Steering (EPS) |
| F0002B | 60A | Radiator Fan - PWM |
| F0003B | 200A | Alternator |