Fuse Layout Honda Insight 2000-2006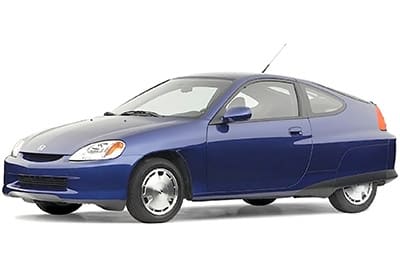 ---
Cigar lighter (power outlet) fuse in the Honda Insight is the fuse #12 in the Instrument panel fuse box.
---
Passenger compartment fuse box
Fuse box location
The interior fusebox is located behind the small storage compartment on the driver's side of the dashboard.
To access it, remove the storage pocket by swinging the lid down, pushing up, and pulling it straight out of its hinges.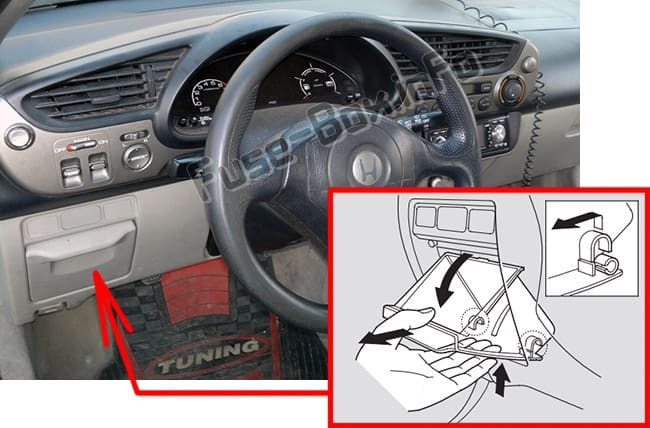 Fuse box diagram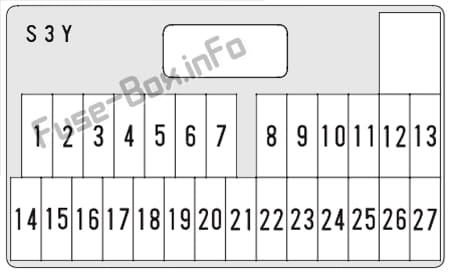 Assignment of the fuses in the Passenger compartment
№
Amp Rating
Description
1
10 A
SRS
2
15 A
Fuel Pump, SRS
3
20 A
Front Wiper
4
7.5 A
FI-ECU
5
7.5 A
Turn Light
6
7.5 A
Meter
7
15 A
IG Coil
8
20 A
Power Window - Passenger
9
7.5 A
Starter Signal
10
20 A
Power Window - Driver
11
7.5 A
ACC Radio
12
10 A
ACC Socket
13
—
Not used
14
20 A
2000-2001: Not used
2002-2006: LAF Heater
15
10 A
Small Light
16
7.5 A
Air Conditioning, R/C Mirror
17
7.5 A
Daytime Running Light (Canadian models)
18
7.5 A
Back Up Light
19
7.5 A
Interior Light
20
10 A
Radio
21
10 A
Daytime Running Light (Canadian models)
22
20 A
Door Lock
23
7.5 A
Tailgate Lock
24
7.5 A
IMA
25
—
Not used
26
10 A
Rear Wiper
27
7.5 A
Back Light
Engine compartment fuse box
Fuse box location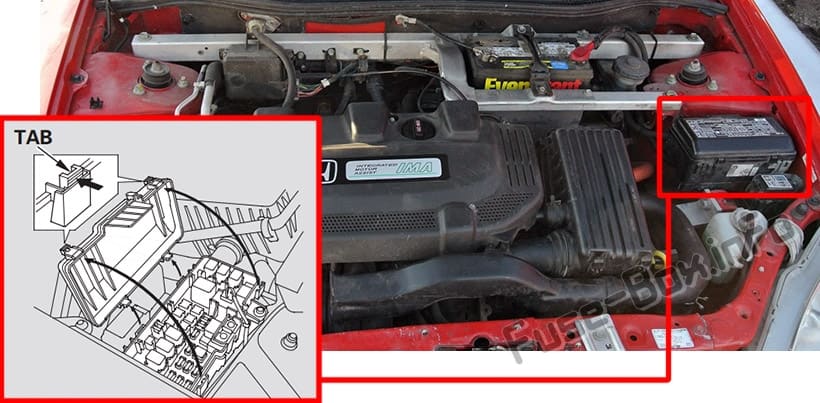 Fuse box diagram

Assignment of the fuses in the engine compartment
| № | Amp Rating | Description |
| --- | --- | --- |
| 1 | 50 A | IG1 Main |
| 2 | 80 A | Battery |
| 3 | 30 A | ABS Motor |
| 4 | 10 A | Hazard |
| 5 | 15 A | IMA |
| 6 | 10 A | Horn Stop |
| 7 | 15 A | Fuel Pump |
| 8 | 15 A | Left Headlight |
| 9 | — | Not used |
| 10 | 15 A | Right Headlight |
| 11 | 30 A | Cooling Fan |
| 12 | 40 A | Heater Motor |
| 13 | 30 A | Rear Defroster |
| 14 | 20 A | ABS F/S |
| 15 | 40 A | Power Steering |
| 16 | 30 A | Back Up, ACC |
| 17 | 40 A | Power Window |
| 18 | 7.5 A | IMA ECU |
| 19 | 20 A | Condenser Fan |
| 20 | — | Spare Fuse |