Fuse Layout Hyundai Coupe / Tiburon 2002-2008
---
Cigar lighter (power outlet) fuse in the Hyundai Coupe / Tiburon is located in the Instrument panel fuse box (see fuse "C/LIGHT").
---
Instrument panel
The fuse box is located on the lower portion of the dashboard adjacent to the bonnet release.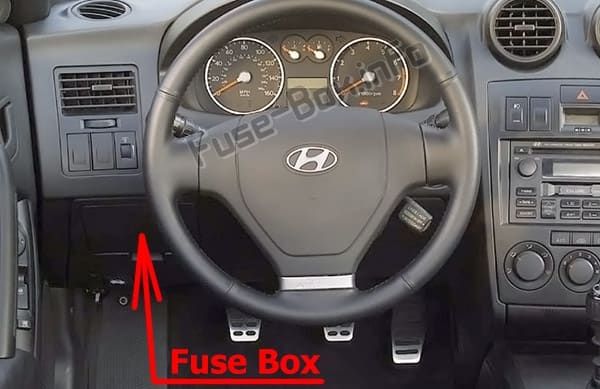 Left-hand drive vehicles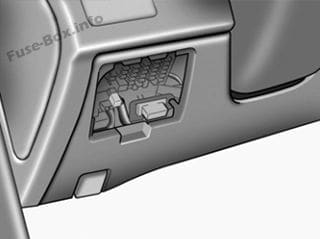 Right-hand drive vehicles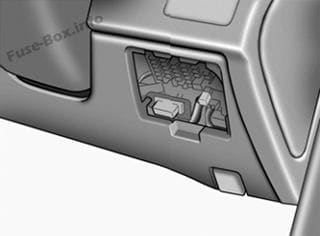 Engine compartment
The fuse box is located in the engine compartment (left-side).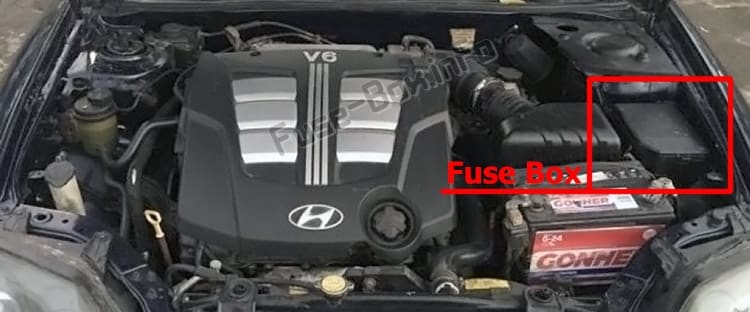 2002, 2003
Instrument panel
Assignment of the fuses in the instrument panel (2002, 2003)
| NAME | AMP RATING | PROTECTED COMPONENTS |
| --- | --- | --- |
| IG COIL | 20A | Ignition Coil, ECM |
| AMP | 20A | AMP. Multi Gauge Unit |
| B/UP LAMP | 10A | B/Up Lamp |
| A/BAG IND | 10A | Air Bag Indicator |
| A/BAG | 15A | Air Bag |
| HTD MIR | 10A | Outside Mirror Defroster |
| HAZARD | 10A | Hazard Warning Light |
| R/WIPER | 15A | Rear Window Wiper |
| TAIL-RH | 10A | Taillight |
| F/WIPER | 20A | Front Window Wiper |
| A/C SW | 10A | A/Conditioner |
| RR DEFOG | 30A | Rear Window Defroster |
| STOP | 15A | Stop Light |
| TAIL-LH | 10A | Tail light |
| A/CON | 10A | A/Conditioner |
| ECU | 10A | ECM, Multi Gauge Unit, TCM |
| CLUSTER | 10A | Cluster |
| ROOM LP | 10A | Map Light, Clock, Audio |
| P/WINDOW | 30A | Power Window |
| T/GATE | 15A | Hatchback door Open |
| IGN | 10A | A/Con, A.Q.S Sensor |
| RR FOG | 10A | Rear Fog |
| C/LIGHT | 15A | C/Lighter, Outside Mirror |
| S/ROOF | 15A | Sunroof |
| S/HTR | 20A | Seat Warmer |
| ABS | 10A | ABS. TCS |
| AUDIO | 10A | Audio, Clock |
Engine compartment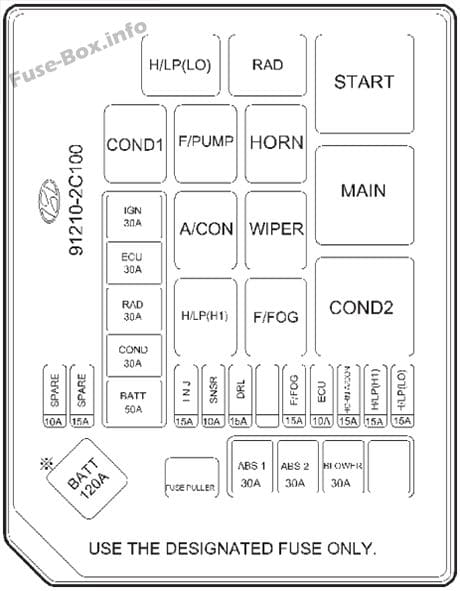 Assignment of the fuses in the Engine compartment (2002, 2003)
| NAME | AMP RATING | PROTECTED COMPONENTS |
| --- | --- | --- |
| BATT | 100A | Generator |
| BATT | 50A | Generator |
| COND | 30A | Condenser Fan |
| RAD | 30A | Radiator Fan |
| ECU | 30A | Engine Control, ECM. ATM Control |
| IGN | 30A | Ignition, Start Relay |
| ABS 1 | 30A | ABS |
| ABS 2 | 30A | ABS |
| BLOWER | 30A | Blower |
| INJ | 15A | Injector |
| SNSR | 10A | 0 2 Sensor, ECM |
| DRL | 15A | DRL |
| F/FOG | 15A | Front fog Light |
| ECU | 10A | TCM, ECM |
| HORN, A/CON | 15A | Horn. A/conditioner |
| H/LP (H1) | 15A | Head Light (High) |
| H/LP (LO) | 15A | Head Light (LOW) |
2004, 2005, 2006, 2007, 2008
Instrument panel
Assignment of the fuses in the instrument panel (2004-2008)
| NAME | AMP RATING | PROTECTED COMPONENTS |
| --- | --- | --- |
| IG COIL | 20A | Ignition coil(1.6L/2.7L), Electronic chrome mirror |
| AMP | 20A | AMP |
| B/UP LAMP | 10A | Back-up lamp switch,Transaxle range switch,Cruise control module,Stop lamp switch |
| A/BAG IND | 10A | Instrument cluster (A/BAG IND.) |
| A/BAG | 15A | SRS control module |
| HTD MIR | 10A | Mirror defogger |
| HAZARD | 10A | Hazard relay |
| R/WIPER | 15A | Rear wiper motor,Rear intermittent wiper relay |
| TAIL-RH | 10A | Right tail lamps,Glove box lamp |
| F/WIPER | 20A | Front wiper motor,Front wiper relay |
| A/C SW / SPARE | 10A | Blower relay, Blower motor (OR SPARE) |
| RR DEFOG | 30A | Defogger relay |
| STOP | 15A | Stop lamp switch,Burglar alarm horn relay,Folding/Unfolding relay |
| TAIL-LH | 10A | Left tail lamps |
| A/CON | 10A | A/C control module, Blower relay |
| ECU | 10A | ECM, Multi gauge unit, TCM, Vehicle speed sensor |
| CLUSTER | 10A | Instrument cluster (Power), Per-excitation resister, DRL Control module,Generator |
| ROOM LP | 10A | Room lamp,Clock,Audio,Data link connector,Multi gauge unit |
| P/WINDOW | 30A | Power window relay |
| T/GATE | 15A | Trunk lid switch |
| IGN | 10A | AQS sensor,Head lamp relay,DRL Control module |
| RR FOG | 10A | Rear fog lamp |
| C/LIGHT | 15A | Cigarette lighter,Outside mirror switch |
| S/ROOF | 15A | Sunroof,Power door lock/Unlock relay |
| S/HTR | 20A | Seat warmer |
| ABS | 10A | ESP/ABS control module |
| AUDIO | 10A | Audio,Digital clock |
Engine compartment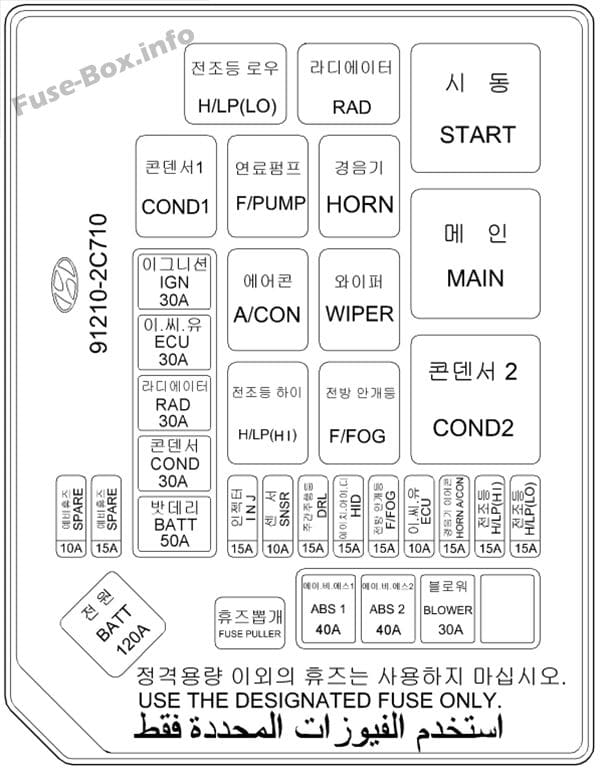 Assignment of the fuses in the Engine compartment (2004-2008)
| NAME | AMP RATING | PROTECTED COMPONENTS |
| --- | --- | --- |
| BATT | 120A | Generator (1.6L/2.0L) |
| BATT | 50A | BCM BOX(Tail lamp relay,Power connector,Fuse(2,7,12,13,19,20,24)) |
| COND | 30A | Condenser fan relay |
| RAD | 30A | Radiator fan relay |
| ECU | 30A | Engine control relay, Fuel pump relay, A/T control relay, Generator,ECM(1.6L/2.7L),PCM(2.0L) |
| IGN | 30A | Ignition switch,Start relay |
| ABS 1 | 40A | ABS/ESP control module,ESP Air bleeding connector |
| ABS 2 | 40A | ABS/ESP control module,ESP Air bleeding connector |
| BLOWER | 30A | Blower relay |
| INJ | 15A | Injector |
| SNSR | 10A | Oxygen sensor,Camshaft position sensor, Idle speed control actuator |
| DRL | 15A | DRL control module |
| F/FOG | 15A | Front fog lamp relay |
| ECU | 10A | TCM(2.7L),ECM(2.7L/1.6L) |
| HORN.A/CON | 15A | Horn relay,A/C relay |
| H/LP (HI) | 15A | Head lamp relay(High) |
| H/LP (LO) | 15A | Head lamp relay(Low) |