Fuse Layout Saab 9-2x 2005-2006
The cigar lighter (power outlet) fuse in the Saab 9-2x is #4 in the Instrument panel fuse box.
Passenger Compartment Fuse Box
Fuse Box Location
The fuses are located under the instrument panel behind the coin tray on the driver's seat side. To remove the coin tray, open the cover and pull the coin tray out.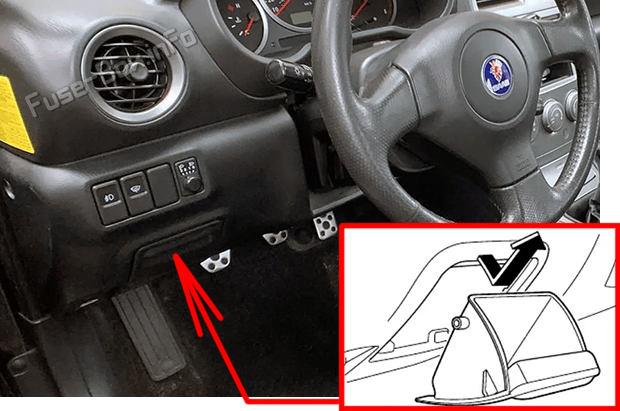 Fuse Box Diagram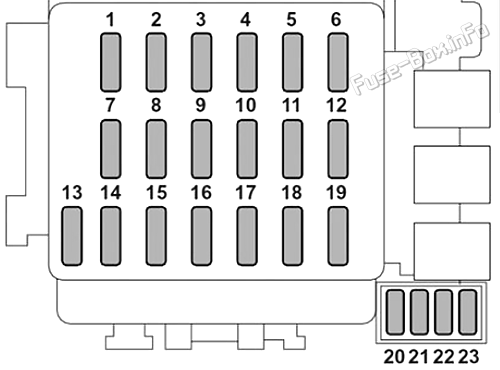 Assignment of the fuses in the passenger compartment fuse box
№
Amp. rating
Circuit
1
15A
Heater fan
2
15A
Heater fan
3
15A
Power door lock;
Remote keyless entry
4
20A
Cigarette lighter;
Remote controlled rear view mirrors
5
10A
Tail light;
Parking light
6
15A
SRS airbag
7
15A
Fog light
8
20A
ABS solenoid
9
15A
Radio
10
-
-
11
15A
Engine ignition system;
SRS airbag;
AT control system
12
10A
Illumination brightness control
13
10A
Instrument cluster;
SRS lamp
14
10A
Rear window wiper and washer
15
30A
Windshield wiper and washer
16
20A
Brake light
17
15A
Air conditioner
18
15A
Backup light;
Cruise control
19
20A
Mirror heater
20
-
-
21
15A
Ignition coil (Non-turbo models only)
22
10A
ABS ignition
23
20A
Seat heater
---
Engine Compartment Fuse Box
Fuse Box Location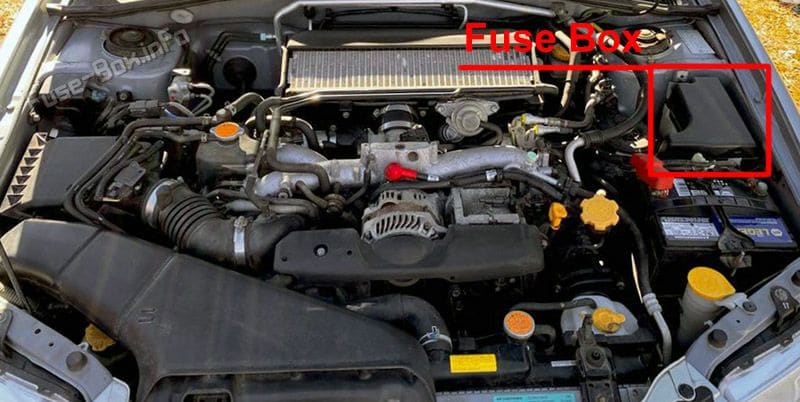 Fuse Box Diagram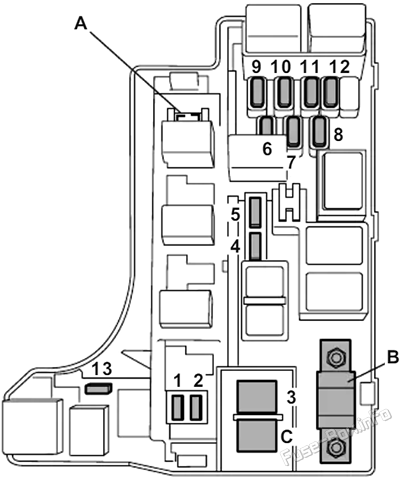 Assignment of the fuses in the engine compartment fuse box
№
Amp rating
Circuit
A
FWD socket (AT models except Turbo)
B
Main fuse
C
Engine sensor (Non-turbo models)
1
20A
Radiator cooling fan (Main)
2
20A
Radiator cooling fan (Sub)
3
30A
ABS motor
4
20A
Rear window defogger
5
15A
Hazard warning flasher;
Horn
6
15A
Turn signal lights
7
10A
Automatic transmission control unit
8
10A
Alternator
9
15A
Headlight (right side)
10
15A
Headlight (left side)
11
20A
Lighting switch
12
20A
Clock;
Interior light
13
10A
Secondary air combination valve (Turbo models only)
---
---