Fuse Layout Audi A4 / S4 2020-2022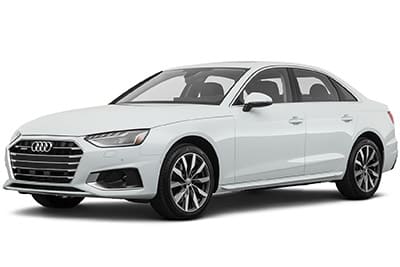 Driver's/front passenger's footwell
The fuses are located in the footwell under the foot rest (left-hand drive vehicle) or behind the cover (right-hand drive vehicle).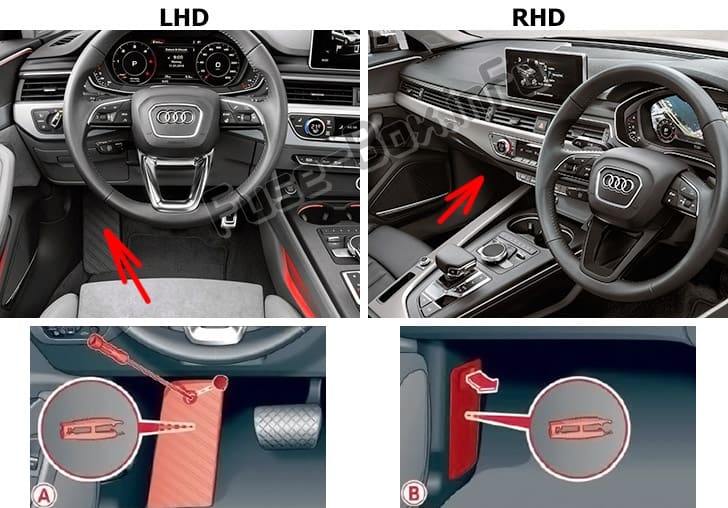 Instrument panel
Additional fuses are located on the front side of the cockpit (driver's side).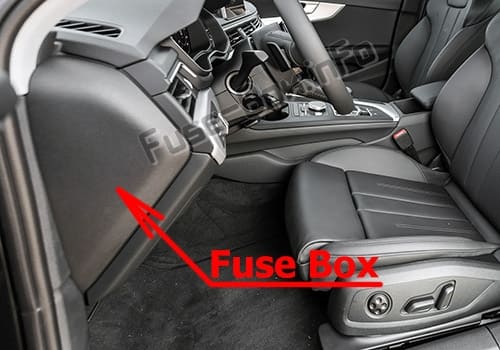 Luggage Compartment
The fuses are located under the left cover in the luggage compartment.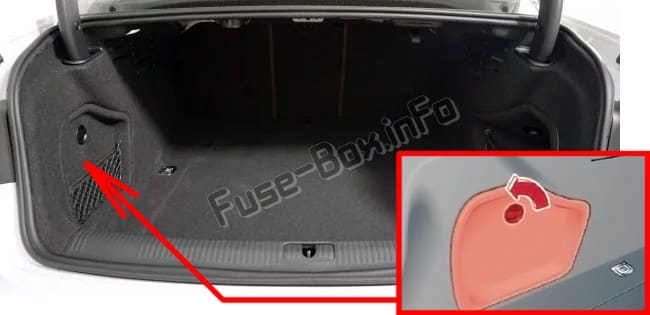 ---
---
Driver's/front passenger's footwell
LHD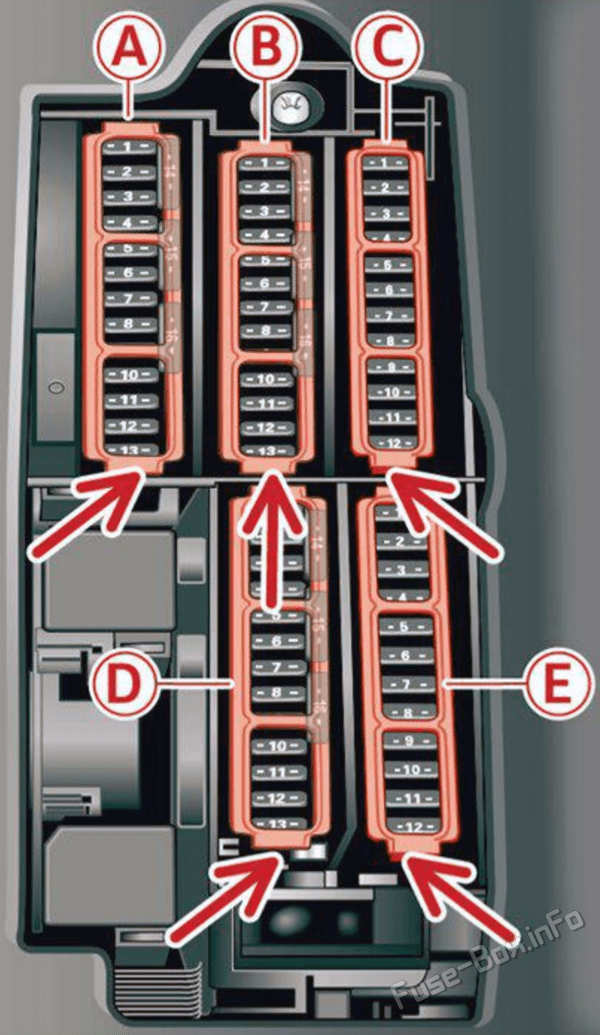 RHD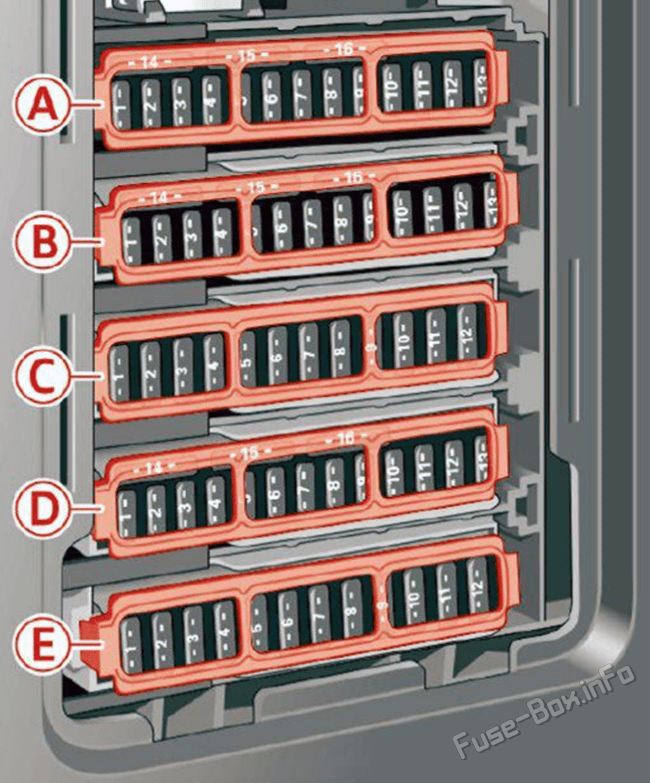 Assignment of the fuses in the front passenger footwell
№
Equipment
Panel A (brown)
1
Catalytic converter heating
2
Engine components
3
Exhaust doors, fuel injectors, air intake, motor heating
4
Vacuum pump, hot water pump, NOx sensor, particulate sensor, biodiesel sensor, exhaust doors
5
Brake light sensor
6
Engine valves, camshaft adjustment
7
Heated oxygen sensors, mass airflow sensor, water pump
8
Water pump, high pressure pump, high pressure regulator valve, temperature valve, engine mount
9
2020: Hot water pump, engine relay
2021-2022: Hot water pump, motor relay, 48 V starter generator, 48 V water pump
10
Oil pressure sensor, oil temperature sensor
11
Clutch position sensor, 48 V starter generator, water pump, 12V starter generator
12
Engine valves, engine mount
13
Engine cooling
14
Fuel injectors, drive system control module
15
Ignition coils, heated oxygen sensors
16
Fuel pump
Panel B (red)
1
Anti-theft alarm system
2
Drive system control module
3
Left front seat electronics, lumbar support, massaging seat
4
Automatic transmission selector lever
5
Horn
6
Parking brake
7
Diagnostic interface (Gateway control module)
8
Roof electronics control module
9
Emergency call and communication control module
10
Airbag control module
11
Electronic Stabilization Control (ESC), Anti-Lock Braking System (ABS)
12
Diagnostic connection, light/rain sensor
13
Climate control system
14
Right front door control module
15
Climate control system compressor
16
2021-2022: Brake system pressure reservoir
Panel C (black)
1
Front seat heating
2
Windshield wipers
3
Left headlight electronics
4
Panoramic glass roof / sliding/tilting sunroof
5
Left front door control module
6
12 volt socket
7
Right rear door control module, right rear power window
8
All wheel drive (AWD) control module
9
Right headlight electronics
10
Windshield washer system/headlight washer system control module
n
Left rear door control module, left rear power window
12
Parking heater
Panel D (black)
1
Front seat electronic, seat ventilation, rearview mirror, rear climate control system control panel, windshield heating, diagnostic connection
2
Diagnostic interface, vehicle electrical system control module
3
Sound generator
4
Clutch position sensor
5
Engine start, emergency shut-off
6
Diagnostic connection, traffic information antenna (TMC)
7
USB connection
8
Garage door opener
9
Audi adaptive cruise control, adaptive distance regulation
11
Front camera
12
Right headlight
13
Left headlight
14
Transmission fluid cooling
15
2020: Alarm and hands-free calling system
Panel E (red)
1
Ignition coils
2
Climate control system compressor
5
Left headlight
6
Automatic transmission
7
Instrument panel
8
Climate control system blower
9
Right headlight
10
Dynamic steering
11
Engine start
Instrument panel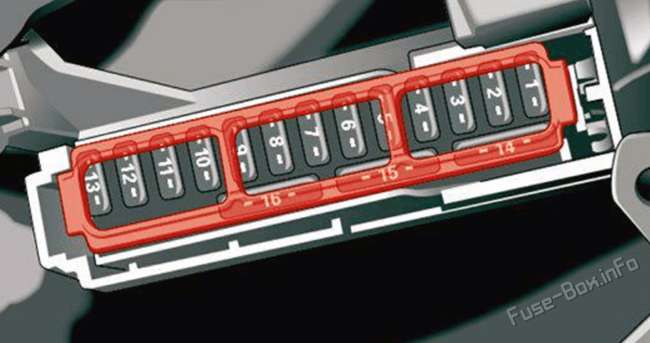 Assignment of the fuses in the driver's side of the cockpit
№
Equipment
1
Convenience access and start authorization control module (NFC)
2
Audi phone box, USB connection
4
Head-up display
5
Audi music interface, USB connection
6
Front climate control system control panel
7
Steering column lock
8
Center display
9
Instrument cluster
10
Volume control
11
Light switch, switch module
12
Steering column electronics
13
2020: Particulate matter sensor for climate control system
14
Infotainment system
16
2020: Steering wheel heating
2021-2022: Steering column electronics, steering wheel heating
Luggage Compartment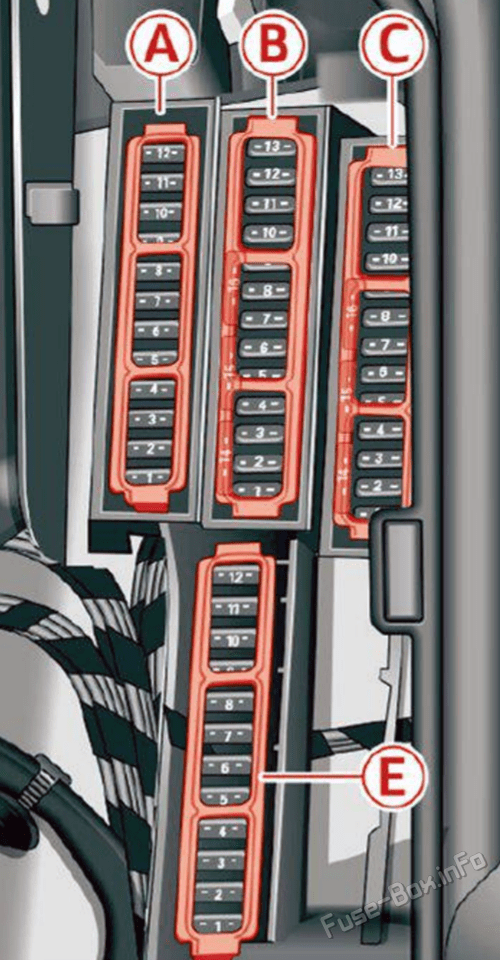 Assignment of the fuses in the trunk
№
Equipment
Panel A (black)
2
Windshield defroster
3
Windshield defroster
5
Suspension control
6
Automatic transmission
7
Rear window defogger
8
Rear seat heating
9
Left tail lights
10
Airbag, driver's side safety belt tensioner control module
11
Luggage compartment lid lock, fuel filler door lock, convenience system control module
12
Luggage compartment lid
Panel B (red)
6
2020: Battery power interrupt
2021-2022: Electric compressor
Panel C (brown)
1
2021-2022: Exterior antenna
2
Audi phone box
3
Right front seat electronics, lumbar support, massaging seat
4
Side assist
6
Tire pressure monitoring system
7
Convenience access and start authorization control module (NFC)
8
Auxiliary heating, tank module
10
TV tuner, data exchange and telematics control module
11
Auxiliary battery control module
12
Garage door opener
13
Rearview camera, peripheral cameras
14
Right tail lights
16
Airbag, front passenger's side safety belt tensioner control module
Panel E (red)
3
Exhaust treatment
5
Right trailer hitch light
7
Trailer hitch
8
Left trailer hitch light
9
Trailer hitch socket
10
All wheel drive control module, sport differential
11
Exhaust treatment
---